Fans Defend DC's 'Titans' Star Against Racist Comments, Backlash Over Casting as Starfire
Intense fandom can unfortunately be a mixed bag, especially when comments turn hateful.
Actress Anna Diop — who has been cast in the highly anticipated upcoming Titans series — was forced to turn off the comments section on her public Instagram account due to people writing racist messages.
In the upcoming show, which is part of the new DC Universe streaming service, Diop plays superhero Starfire/Koriand'r. The backlash focused on the fact that's she a black actress playing the orange alien.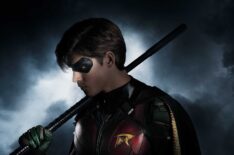 See Also
The new series is set to launch in 2018.
The comments first started earlier this year when a set photo was leaked which seemingly angered some comic book fans. Last week, at 2018 San Diego Comic-Con, the first Titans trailer dropped, and the harassment was sparked again.
Diop responded to the bigoted comments previously in an Instagram that's since been deleted.
"With that said – the hate speech that followed was deplorable. And though I am highly unbothered. I do want to use this as an opportunity to say that tearing people down is not something that I tolerate. For myself or anyone else. Too often social media is abused by some who find refuge in the anonymity and detachment it provides: misused as a tool to harass, abuse, and spew hatred at others. This is weak, sad, and a direct reflection of the abuser," she wrote.
"Racist, derogatory, and/or cruel comments have nothing to do with the person on the receiving end of that abuse. And because I know this – I'm unfazed. But for anyone out there who may not – I am here to remind you that whatever ugly and negative thing anyone ever chooses to say about you is always a reflection and revelation of themselves- it does NOT define you, and it certainly does NOT make you any less perfect than you are – Be you! Stay beautiful! Live breezy."
In the midst of all the hate, loyal and true fans have stepped up and supported Diop and the casting decision on Twitter:
100% support Anna Diop as Starfire 😍

It's up to the Titans creative team to deliver a great live action interpretation. pic.twitter.com/ZyIjFYsf3M

— GOBZILLA (@filmgob) July 25, 2018
One of the beautiful things about cartoons, is the characters are literally every color of the rainbow. No one color is superior. We are all equal. Voiced by folks of all colors, & in the booth we are all equal. Comic book Superheroes can be ANY COLOR & I LOVE a black #Starfire

— tara strong (@tarastrong) July 25, 2018
I LOVE U ANNA DIOP MY STARFIRE pic.twitter.com/sbE7Peh4Dm

— Troy (@BertinelliDrake) July 19, 2018
Anna Diop will smash it as Starfire. #IStandByAnnaDiop pic.twitter.com/8TF80VwKIr

— Waja Hassan (@hassanwz) July 25, 2018
Watch the Titans trailer below: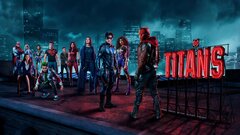 Powered by