Will Devon Marrying Hilary Give Her the Will to Live on 'Young & the Restless'? Bryton James Weighs In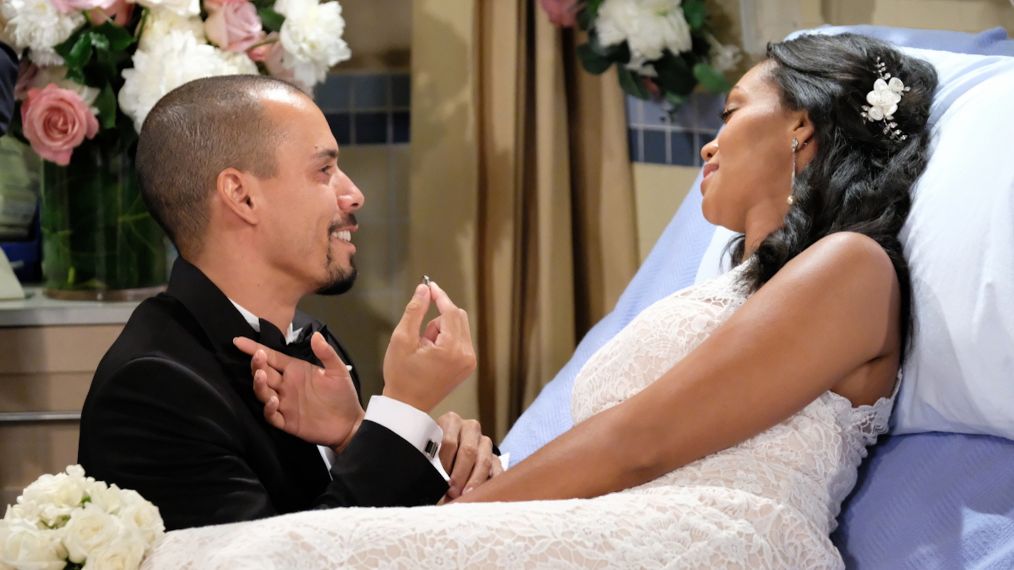 Twenty years ago on The Young and the Restless, gunshot victim Nikki (Melody Thomas Scott) was in the hospital, hovering between life and death. Victor (Eric Braeden) stepped up, re-married his former wife, which gave her the will to live.
Now, in a way, Y&R's revisiting this story with a gravely injured Hilary (Mishael Morgan). Her ex, Devon (Bryton James), has proposed marriage and, in Thursday's episode, the two are going to get re-hitched. Will Devon's love for Hilary give her the will to live as Victor's did for Nikki?
Even if Hilary does recover, there's no guarantee she's going on a honeymoon. Morgan's announced her exit from the top-rated soap, but it's possible that Hilary's going to recover and leave town so she can mourn the loss of her baby privately.
See Also
The focus might be on the 2018 primetime awards right now, but we already have our picks for 2019's soap set.
Either way, this week is a must-watch for "Hevon" fans. Read on to hear James' thoughts on this heart-wrenching storyline.
Hilary's accident is a reminder how fragile life is. How is Devon affected by this?
Bryton James: It's definitely put everything in perspective and made him see what's most important in life — and that is his love for Hilary, which has been building for the last five years. They've each spent a lot of time denying their real feelings. It's made Devon see that nothing else really matters except experiencing her love. It's made it all real for him, very quickly.
Katherine's (Jeanne Cooper) role in the car accident that took Phillip's (Donnelly Rhodes) life changed her dynamic with Jill (Jess Walton) forever. Is it possible that Devon will blame Lily (Christel Khalil) for the death of his and Hilary's child, and they'll share a similar feud?
It's going to be very difficult. It's going to make an impact when it comes out she ran a red light. When Devon learns the truth of Lily's full involvement it's going to be a turning point and a big shift in the dynamics within the family.
What are your thoughts on Devon and Hilary remarrying?
This wedding is not only a gift, but it's a logical thing for Devon to want to do. The fans have wanted to see us together and happy for so long. For the characters, this makes sense. This wedding is going to solidify their love.
Devon and Hilary have had a volatile relationship over the years. Will this marriage change that?
This has all made Devon realize that this woman is the true love of his life. I can definitely say that, for as long as I can perceive, he'll see her as his one true love.
What's the most memorable gift you and Mishael have received from your fans? The cupcake truck?
That was pretty grand. To have a cupcake truck. They sent us napkins with our names on them and champagne flutes with our names engraved on them and messages. For Mishael, our fans always think about her family. There was one gift that our fans sent me that was very touching. It was after they heard about my dad passing. It was a blanket with a collage of pictures on it that I had posted [on social media] of my dad and me. I thought that was extremely thoughtful.
See Also
She's played Ashley Abbott on the soap on and off since 1982.
Devon was going to have a biological child with Hilary even though he, himself, had come through the foster care system. What are your thoughts on that?
I've had dialogue where Devon's mentioned considering adoption. There were a few scenes in which he talked about that with characters. Over the last year, I think the talk of wanting to have a biological child was about wanting to share a connection with Hilary. He didn't feel this way with anyone else. The most special thing you can share with another person is a child. He wanted to have that with her.
You and Kristoff St. John (Neil) had a very nice scene last week when Neil told Devon about the baby not making it. It seems that any past pain over Devon's betrayal with Hilary when she was married to Neil has been conquered.
Yes. We own and run a company together. We're tight enough to do that. Devon and Neil went through quite a bit when he learned that Neil had kidnapped Hilary before she regained her memory. Devon could have sent Neil to jail, but family matters a great deal to Devon. Neil saved Devon's life [by adopting him]. Devon knows he wouldn't be where he was if it weren't for Neil.
Might Devon have a problem with Nate (Brooks Darnell), who operated on Hilary, if she doesn't make it?
Sure. I think anybody that has a finger in this entire incident [is someone Devon could blame]. Lily's directly involved. Nate's making decisions on Hilary's well-being. It's going to be very interesting to see how the Winters family continues after this. There are going to be a lot of shakeups.
What would you like to say to the "Hevon" fans who have supported you?
I want to say, and I think I can speak for Mishael, how much we both truly love the fans. We're grateful to them completely because without their compassion and devotion we wouldn't be here. This storyline wouldn't be on the show. Who knows where our characters would be? We owe everything to them. We're really proud of the work we've put into these episodes. Fans are going to see the romance that they've been wanting to see.
The Young and the Restless, Weekdays, CBS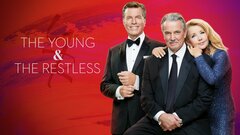 Powered by