'Supergirl' Season 4: All Your Burning Questions Answered
The Reign is done and those Worldkillers appear to be gone for good! And while the exploits of Winn and Mon-El will be the stuff of Legion, will National City get Brainier?
Supergirl showrunners Robert Rovner and Jessica Queller spill all.
See Also
Plus, the cast addressed Season 3's losses.
Is Reign's reign really over?
"It's a happy ending" for Sam (Odette Annable), says Queller. "She's vanquished Reign forever, she's normal again and she and [her daughter] Ruby move to another town and start over, like at the end of a horror movie."
Have we lost Winn (Jeremy Jordan)?
Certainly for now, with Winn joining the Legion and leaving Earth to save the Artificial Intelligences from Brainiac-5's (Jesse Rath) evil kin. "One of Brainy's relatives created a program to destroy all the AIs in the future, so it's no longer safe for Brainy to live there," Rovner notes. You'll be seeing more Dox in the City.
Is Karamel dunzo too?
For now. Since Chris Wood's contract was up, Mon-El is also outta here. Plus, Queller says, "Kara's work is on Earth as a hero. Mon-El's is in the future as a hero. They're star-crossed." But before leaving with the Legion, "Mon-El gave [Kara] a Legion ring and said, 'If you ever need me, call.' So he can come back when he wants," says Queller.
What is Lena (Katie McGrath) up to now?
In the finale, it was revealed that the L-Corp honcho had a hidden stash of the black rock being used to power Argo City. "She wants to explore [its] properties and see what it can do for us here on Earth," explains Queller. Given that Kara's newly alive mom, Alura (Erica Durance), warned her about its dangers, we're betting Ms. Luthor is about to, um, rock Supergirl's world.
See Also
This is the Arrrowverse's first trans character (and casting).
Was the Kryptonian witch named Selena a shout-out to Faye Dunaway's sorceress in the Supergirl movie?
Nope. "Our Selena is more rooted in the Kryptonian canon, the DC canon," clarifies Rovner. However, Queller admits that CatCo underling Eve Tesch­macher (Andrea Brooks) and Kara's flying through space to reverse time are meant to be "our homage to Superman: The Movie."
Why the shake-up at the Department of Extranormal Operations?
Following the death of his father (Carl Lumbly), J'onn (David Harewood) "leaves Alex [Chyler Leigh] in charge of [the covert] DEO," confirms Rovner, who sees this as a way for the writers to mold the shapeshifting Martian Manhunter into more of the "J'onn J'onzz in the comic books—a man of the people, fighting for the underdog" next season.
See Also
The casts of 'Lucifer,' 'The 100,' 'The Magicians,' 'Gotham,' and more gave us the scoop!
Was that Russian bit in the finale a hint at next season's plot?
Da! Queller reveals that the Kara doppelgänger who fell from the sky is "a blank slate Kara" and will factor into their take on an iconic Superman storyline. "Our intention is to pay homage to the Red Son comic [where Superman is raised in Russia]," Rovner adds. He'd better not be Putin us on.
So what's on the docket for Kara?
With the Supergirl vs. Reign plot taking so much story away from CatCo, the exec producers plan to head back to the basics. "Next season, we're going to be much more grounded in National City," Rovner previews. "We want to get Kara back to reporting more, back to the balance of Kara being Kara. We have a really interesting story for her that we're excited to tell."
For more exclusive content from your favorite shows like Arrow, Supergirl, and more, pick up TV Guide Magazine's Special Comic-Con Issue, on sale now. It's an all-access SUPERFAN guide with 88 pages of behind-the scenes photos, scoops, and interviews .

Supergirl, Season 4 Premiere, Sunday, October 14, 8/7c, The CW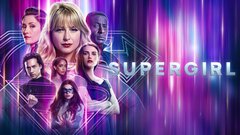 Powered by