Hulu's 'Castle Rock,' CW's 'Burden of Truth,' Freeform Says Goodbye to 'Young & Hungry'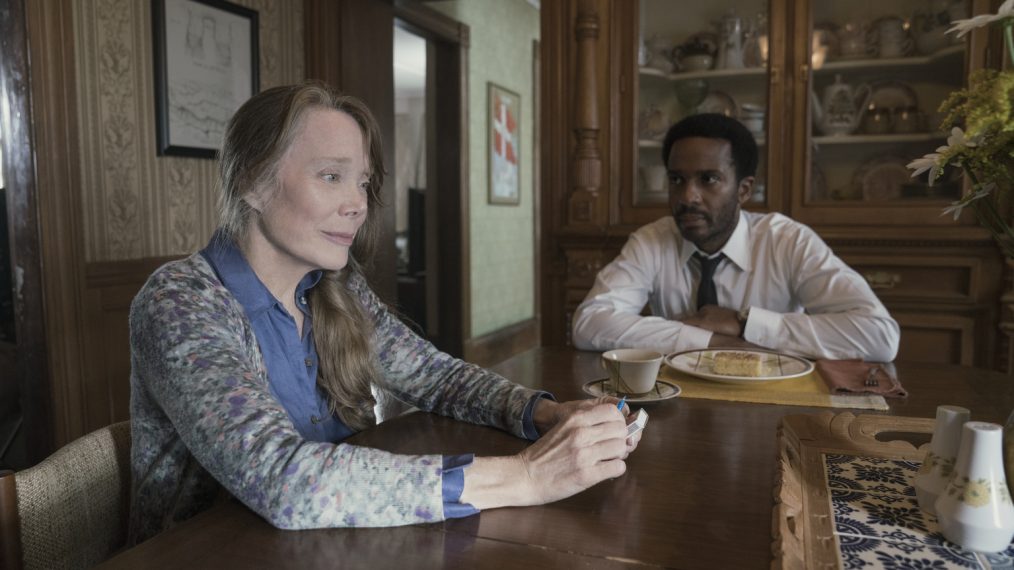 A critical checklist of notable Wednesday TV:
Castle Rock (streaming on Hulu): For decades, TV has welcomed shows and movies based on Stephen King books, but this series is a rarity: an original suspense fable inspired by characters and settings from King's prolific repertoire. André Holland stars as a death-row lawyer called back to his hometown, the fabled burg of menace known to King fans worldwide, when a mysterious young John Doe (It's Bill Skårsgard) is discovered caged in the bowels of Shawshank State Prison. A strong cast includes the original movie Carrie, Sissy Spacek, as Holland's dotty adoptive mother and Scott Glenn as retired sheriff Alan Pangborn, a Castle Rock regular (The Dark Half and Needful Things) — just one of many references sure to delight King's readers as they become absorbed in the town's new mysteries.
See Also
Stephen King, J.J. Abrams, and a gifted cast deliver the shivers in a must-see tale of supernatural horrors.
Burden of Truth (8/7c, The CW): Kristen Kreuk, the longtime CW ingénue of Smallville and Beauty and the Beast, has graduated to the more adult gig of a big-city lawyer in this dramatic Canadian import. As Joanna Hawley, she returns to her hometown to represent a pharmaceutical client whose vaccine has been linked to an illness affecting local teenage girls. Once she arrives, she decides to becomes the girls' advocate, questioning her own values. A second season has already been green-lighted.
See Also
The 'Smallville' actress returns this summer for the newly-acquired legal drama.
Young & Hungry (9/8c, Freeform): The romcom wraps its fifth and final season with back-to-back episodes in which Josh (Jonathan Sadowki) reveals his deepest secret to Gabi (Emily Osment): a passion for magic. He then takes her and the gang on a spin in his new yacht, where Gabi hits its off with the ship's chef (celebrity chef Alex Guarnaschilli) and gets an offer that could spoil Josh's plans. However it ends up, a reunion movie is already reportedly in development.
See Also
Catch an exclusive sneak peek at this week's all-new episode of the Freeform series.
Inside Wednesday TV: With the Qualifiers rounds completed, NBC's World of Dance moves to a new night (8/7c) for the first of the Duels, in which the top acts from each division choose and challenge a rival for a one-on-one elimination duel… Ovation's The Art Show (10/9c) travels the globe to find fascinating stories about art and artists. In the premiere alone, hosts unearth treasures in Beijing, Tuscany, London and Detroit… In what was recently confirmed as the series finale of USA's Colony (10/9c) after three seasons, Will (Josh Holloway) once again sacrifices to save his family, while Katie (Sarah Wayne Callies) works to save refugees outside Seattle's walls.