Kristin Kreuk Lawyers Up for The CW's Newly-Acquired 'Burden of Truth'
It's about time we got some good news about Kristin Kreuk!
It was just announced that the Smallville alum—who has been linked to some crazy headlines lately—will be heading back to her old Beauty And The Beast stomping ground as the star of the network's newly-acquired summer series, Burden of Truth.
See Also
Cult leader Keith Raniere was arrested in Mexico over the weekend.
Kreuk's character, Joanna Hanley, is described as "a big city lawyer who returns to her hometown to take on what she thinks is a simple case, only to find herself in a fight for justice for a group of sick girls."
It all sounds very John Grisham-y and the show co-stars a slew of the actress' fellow Canadian actors, including Peter Mooney (Rookie Blue), CSI vet Alex Carter (who also popped up on an episode of BATB), Benjamin Ayres (Saving Hope) and relative newcomer Star Slade.
Burden joins The CW's growing slate of summer programming, which is already set to feature the final season of The Originals; The Outpost, a fantasy/adventure series from the Stargate folks; new batches of Whose Line and Masters of Illusion; and original episodes of the about-to-resume Supergirl and the late-starting fifth season of The 100.
Expect a premiere date and time slot to be announced at a later time.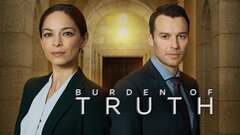 Powered by