'Arrow' Announces Three New DC Villains (Including a 'Magicians' Alum) at Comic-Con 2018
In the Season 6 finale of Arrow, Oliver Queen (Stephen Amell) — in a shocking twist — revealed his secret superhero identity to Star City.
Now, friends and foes alike know he's Green Arrow and that doesn't go over smoothly. Oliver is arrested and sent to prison, where he faces a number of former enemies including: Ben Turner/Bronze Tiger (Michael Jai White), Derek Sampson (Cody Runnels) and Danny "Brick" Brickwell (Vinnie Jones), who want him dead.
See Also
The hunky actor also teased that big crossover in the works for next season.
And at the show's San Diego Comic-Con 2018 panel, The CW revealed that Oliver will have three new enemies to contend with in Season 7.
"Team Arrow will come up against The Longbow Hunters, a legendary group of assassins recruited by Ricardo Diaz (Kirk Acevedo) to enact his revenge on Oliver and the team after they took down his burgeoning criminal empire in Season 6," a press release revealed.
See Also
Super screw-ups, courtesy of the doomed planet's all-stars.
The lethal team includes:
Red Dart (Holly Elissa – Whistler), a ruthless and precise killer
Kodiak (Michael Jonsson – Van Helsing), a beast of a man with brute force
Silencer (Miranda Edwards – The Magicians, Orphan Black), a master of stealth
Arrow, Season 7 Premiere, Monday, October 15, 8/7c, The CW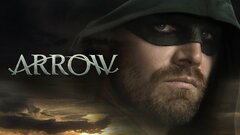 Arrow
where to stream
Powered by