Andrew Lincoln Talks Rick Grimes' Exit & 6 More 'Walking Dead' Comic-Con Panel Takeaways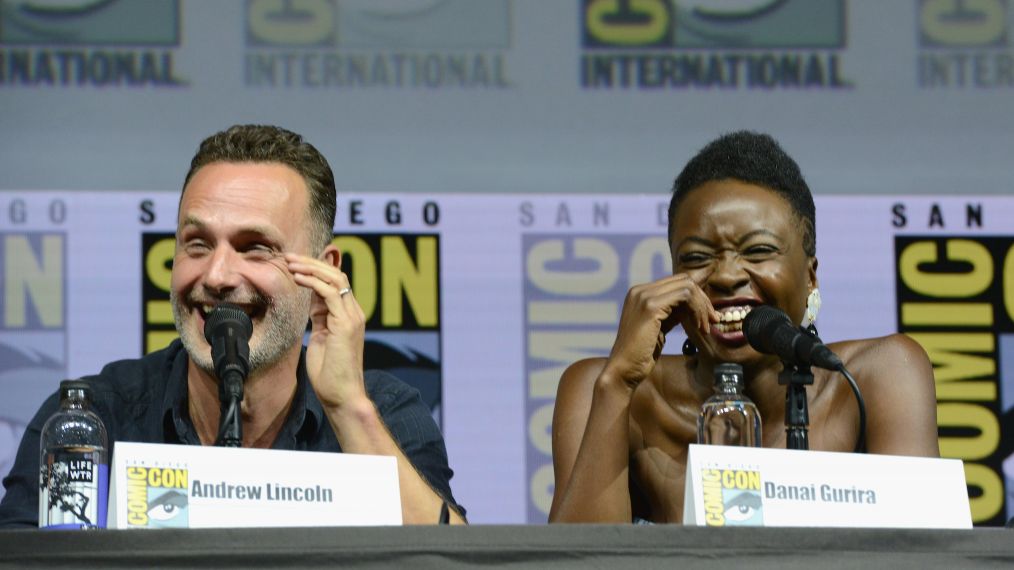 The euphoric mood in Hall H at the San Diego Comic-Con 2018 was tempered by crowd favorite Andrew Lincoln confirming what fans of The Walking Dead already knew. The actor is indeed leaving his role on the hit AMC series.
"This will be my last season playing the part of Nick Grimes," Lincoln said to thousands of attendees. "I love this show. It means everything to me."
The actor held back tears joking he's done enough crying on screen, but hastened to add that the support he's felt from the show's fans has truly warmed his heart.
"I'm particularly fond of the people who watch the show. It has been the most extraordinary experience of my career, made largely because of you guys in this room and in rooms across America. I didn't want to turn this into an Oscar speech or an obituary. We're extremely proud of the work we've done this season."
Of new showrunner Angela Kang, Lincoln raves, "[She] is astonishing and is leading with such class. It's allowing us to breathe and deepen the on-screen relationships."
On what he plans on doing next? "I'm going to take a break for a while," Lincoln says. "These guys (here on the show) have been the greatest surrogate family, but I do have a real family and it's time for me to go home. Having said that, I'm keeping one eye on scripts that Norman (Reedus, Daryl) quietly sends me. I don't really know [how it will feel not being here]. This show has been such a part of my life. I've breathed it for ten years. What I do know is that I believe in the story [coming up, but] I can't spoil it for you. It is going to be a terrific season."
How new showrunner Angela Kang feels about taking the helm: "It feels great," Kang says. "I've been with the show since the 7th episode of the second season. I was a big fan of it when I worked on Terriers. I'd read the show's pilot [before it aired] and I had read the comic. I told my manager it was my dream job to have."
What might Rick miss the most when he leaves? "Michonne…definitely Michonne" – Andrew Lincoln#TheWalkingDead #SkyboundSDCC pic.twitter.com/3MLSgXwHPD

— The Walking Dead (@TheWalkingDead) July 20, 2018
On the support everyone is showing new showrunner Angela Kang: "All of us have grown up together watching Angela thrive," says producer Gale Anne Hurd. "She's one of the most beloved people. I remember reading the sample script [she wrote] back before the second season. I thought, 'We have to get her on the show.' She's a visionary and understands what we're trying to do. She's fantastic."
"I got chills watching the trailer [for the next season]," Greg Nicotero, director/special effects makeup artist, says. "I'd like to jump on the bandwagon with how great I think [Angela] is." In turn, Kang was handing out her own praise, noting, "We're getting to see some sides of Negan we've never seen before. I'm loving the stuff that's coming up. Jeffrey (Dean Morgan) is [expletive] amazing! I just lost a bet with some people at the office – he's 'hecking' amazing!"
On Maggie having had the bad courtesy of a time jump: "It was fun knowing I was going to have the baby," Lauren Cohan (Maggie) says. "There's a lot of conflict between people who love each other working towards which should be a bigger, brighter, stronger future. Maggie really wants things to be peaceful and a positive time, but people are people and my child has no father."
New faces: During the panel, Kang and series creator Robert Kirkman confirmed new faces coming on next season. Samantha Morton (Fantastic Beasts) will play Alpha; Brett Butler (Grace Under Fire) has been cast as Tammy Rose; and John Finn (The X-Files) is Earl, a blacksmith and Tammy's husband.
On Lincoln and Reedus (Daryl) playing practical jokes on one another: "It started in Tokyo when he leaned over to me and asked how do you say, 'Thank you for having me in your country?' I tell him [what to say] and he says 'Where's the toilet?' on live TV in Japan. So for his last prank on me he got someone to 'T.P.' [put toilet paper all over] my car."
The Walking Dead returns Sunday, October 7, AMC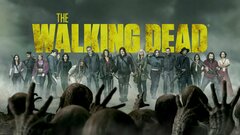 Powered by