'DuckTales' Finale: Don Cheadle Goes Method to Play Donald Duck (VIDEO)
DuckTales is recruiting one of Marvel's own for a very special voice role.
Academy Award-nominated actor Don Cheadle — who many also know as James Rhodes (a.k.a. War Machine) in movies like Avengers: Infinity War and Captain America: Civil War — will lend his vocals to none other than Donald Duck. Announced Friday at Comic-Con 2018, the actor will guest star in the season finale of the hit Disney Channel series, airing Saturday, August 18.
Cheadle is the latest star to join the growing list of guests, including Lin Manuel-Miranda, Catherine Tate, and more. The special one-hour final episode, titled "The Shadow War!" will find the family of ducks trying to save Scrooge and the city from Magica De Spell.
In the video below, Cheadle talks about what the guest role means to him and how he prepared. Underneath his name and profession on the chyron, it's also noted that he's a Thanos Survivor — a nod to Avengers: Infinity War.
"It's an awesome opportunity because there are only so many roles that you look forward to playing as an actor. You've got to do your homework and bring your A-game when you're trying to voice Donald Duck."
See Also
The 'Hamilton' creator makes his debut on May 11.
So what does his A-game entail? Among other things, Cheadle talks about finding his "id" and asking the questions like, "What makes a duck tick?" The actor claims he isn't the first person to go into Duck philosophy. From exclusively eating duck to not wearing pants, find out just how method Cheadle went for his role in the video below.
DuckTales, Season Finale, Saturday, Aug. 18, 9:30/8:30am c, Disney Channel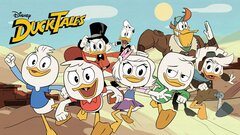 Powered by