'Desert Flippers': Get a Sneak Peek at the Season 3 Premiere Transformation (PHOTOS)
The heat is on! In Desert Flippers' third season, renovation experts Eric and Lindsey Bennett restore more architectural gems in and around sizzling-hot Palm Springs, California.
The desert resort town's mid-century homes "are unlike any others in the world," says Lindsey. One drawback to this land of cactus flowers and palm trees: "If it's 115 degrees outside," says Eric, "the asphalt can be 160!"
See Also
In the spirit of sibling rivalry, we asked the twins to answer the same questions to see how their responses stack up.
Married in 2009, the parents to three boys aren't even close to wilting. In Tuesday night's premiere, they bring a three-bedroom, two-bath house — marred by misguided updates like dark paneling that would be better suited to a pub — back to its airy 1959 self, complete with a revamped pool area that's an oasis of cool.
Later comes one of Desert Flippers' biggest demolitions yet — and we're not talking about Lindsey's usual (good-natured) bulldozing of Eric's input. "We never have a difference of opinion," he jokes, "because I don't have opinions."
Get a sneak peek of the transformation below!
BEFORE
This dreary backyard needed a lot of help. "We usually spend as much on the outdoor space as we do the indoors," says Lindsey. The pool makeover, which involved replastering and sharpening the corners for "a more modern look," she says, had a $15,000 price tag.
See Also
Which would you choose?
AFTER
Now we're swimming. Drought-friendly artificial grass, a covered patio with misting system, and a tanning shelf add up to superswanky. Near the elevated hot tub, the Bennetts planted citrus trees. "Blood oranges, lemons — great for margaritas!" notes Lindsey.
Desert Flippers, Season 3 Premiere, Tuesday, July 24, 9/8c, HGTV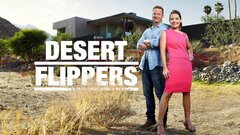 Powered by