The 'House Hunters' Debate: Hometown vs. Abroad Living
When it comes to escapist entertainment, House Hunters has pretty much cornered the market.
After all, what could be more aspirational — and yet fully relatable — than watching everyday folks as they search for new digs? The megahit has generated multiple spinoffs since its 1999 debut. Here, two TV Guide Magazine writers pick their favorite way to live vicariously through real estate.
See Also
'House Hunters Family' adds kids to the house-hunting process.
House Hunters
Wednesdays, 10/9c, HGTV
Yes, International showcases picturesque properties, but the buyers seem all too willing to settle for quirky features or a microscopic bathroom. My must-have: the demanding couples of House Hunters, who put real estate agents through the wringer. That's entertainment.
It's almost become cliché to make fun of the stateside shoppers' outsize wants. If we had a dime for each time someone simply needed granite countertops, we could fill an in-ground swimming pool. Here's the thing, though: Who among us hasn't wished for top-of-the-line everything in the place we hope to call home?
See Also
Top rated Fixer Upper is ending after five seasons.
I tip my sombrero to anyone adventurous enough to start anew in the Yucatan, but I will never fault Kate from St. Louis for hanging her hopes on new construction and a three-car garage within walking distance to downtown. That's the American dream, and I will always root for those strivers from the comfort of my man cave. —Eric Andersson
House Hunters International
Wednesdays, 10:30/9:30c, HGTV
This spinoff came out in 2006, and for my euro, House Hunters International (in Thailand, below) remains the crème de la crème. The premise is the same — there's a choice to be made among three properties—but by going beyond U.S. borders, we get to see totally new horizons.
In its original iteration, the series makes me marvel at what things cost in different parts of the country. But in International's distant climes, the standards change for everyone concerned: Instead of fretting about square footage, our onscreen avatars are grappling with concepts like well water and bidets.
Oftentimes, they are going through a life change — retirement, divorce, job relocation — imbuing their quest with feelings of hope, fear and bewilderment. Any title under the House Hunters umbrella can shine a light on people learning to reassess budgets or expectations; only International lets you witness them stretching their minds. —Ingela Ratledge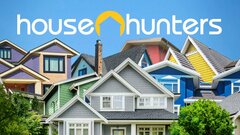 Powered by
Powered by