Kristin Booth & Crystal Lowe Talk Hallmark's 'Signed, Sealed, Delivered: To the Altar'
The latest and tenth installment of Hallmark Movies & Mysteries' Signed, Sealed, Delivered franchise is back with its new installment To the Altar, and your four favorite postal workers are ready to solve mysteries and reunite people with their long-lost mail.
TV Insider spoke with besties Kristin Booth (who plays Shane McInerney) and Crystal Lowe (Rita Haywith) about what fans can expect from the next chapter in their stories and what is means to have such an amazing legion of fans, a.k.a. "POstables."
Here what they had to say in the interview below:
See Also
Christmas queens Lacey Chabert & Candace Cameron Bure return as Hallmark airs a record 36 movies.
Where do we pick up with these characters?
Crystal Lowe: Rita is getting married to Norman (Geoff Gustafson). We've been engaged for a little while and navigating that and what being engaged means, discovering what we're going to be like as a married and now we finally get to the alter.
Kristin Booth: The POstables discover a wedding dress that was an undeliverable and that becomes their mystery mission throughout the movie.
Why do you think fans have really latched on to this series?
Booth: It's family friendly program which is so unique to television right now. You're guaranteed that you don't have to worry about the kids coming in or you can share it with your 90-year-old grandmother.
What was Carol Burnett like?
Lowe: She's an incredibly funny, down-to-earth, easy going woman, and her comedic timing is still bang-on.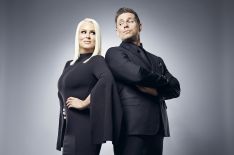 See Also
Plus, find out which of your other favorite shows are coming back next season.
What do you think the audience will love about this new installment?
Booth: I think what the audience is going to love is that there's so much payoff in this movie. We've been following these four people for so long and seeing them grow and seeing their characters change and be influenced by not only each other but the people they meet along the way while they're solving the mysteries of the letters and the packages.
Now, finally you get to see Norman and Rita finally get married when at the beginning [of their relationship] they could barely speak to each other. And you get see Oliver (Eric Mabius) and Shane's relationship growing and getting stronger. There's just so much heart in this particular one and I think it's the best one so far.
The chemistry between the four of you is great. What do you attribute that to?
Lowe: I think what's really funny about our characters is that's we're kinda them in real life. [Laughs] I feel like I'm always [saying] "Everything's going to be fine. Everything's going to be rainbows." And Kristin's like "I'm going to discover this… where else can I find something?" Eric is always thinking everything through, he's very analytical. And then Geoff is like I'm just here.. let's do whatever we gotta do." We're almost kinda those people in real life!
Booth: When you describe it like that, it actually is true! [Laughs]
Why do you keep coming back to this series, these characters?
Booth: Martha's writing. It is such a gift every time we get a script from Martha and are able to bring that to life. She's so good a weaving different messages into a highly entertaining, sometimes suspenseful, sometimes hilarious stories.
The #POstable fan frenzy is intense. What's that like?
Lowe: It's amazing. We just met a bunch of fans and it was just brilliant to see what this group name has become. It's become this family of women and men, people who support and love each other who have never met, using social media in exactly the right way.
Booth: Our fans mirror the show and they're wonderful people who are committed to the show and have often been generous with their feelings and thoughts.
What do you want to do with your characters in future installments?
Lowe: I'd love to see a honeymoon at some point. I'd love to see Rita and Norman tackle children and how they want to have children… if they can have children and what kind of parents they want to be be.
Booth: And of course we all want to see a wedding for Oliver and Shane as well because that relationship has been through it's ups and downs.
Signed, Sealed, Delivered: To the Altar, Sunday, July 15, 9/8c, Hallmark Movies & Mysteries

Powered by