AMC Gives First Look at 'Walking Dead' Season 9 — Plus, Details on the Time Jump (PHOTO)
The Walking Dead fans are still coming to terms with Andrew Lincoln's rumored departure in Season 9, and now, they're one step closer to finding out how it all goes down!
The first image from the new episodes has been released, featuring Danai Gurira as Michonne, and she's… riding a horse?! Yes, that's right, in the photo, Michonne is front and center as she and other characters pull pioneer-era wagons and goods. There's that time jump we heard about!
#TheWalkingDead's new showrunenr @angelakang dropped some serious hints about Season 9 to @TheWrap and @EW: https://t.co/5pgZAwMTN7 pic.twitter.com/RDRxMfUq6G

— The Walking Dead (@TheWalkingDead) July 11, 2018
"We'll explore what happened as man made objects and structures break down," executive producer Angela Kang told Entertainment Weekly. "Infrastructure like roads and bridges are changing and crumbling. And we'll also explore what happens as resources are getting low."
Kang is the new showrunner for the series, taking over for Scott M. Gimple."We're really looking at the start of a new chapter of the show," she said of the surprising first image.
"There's a fun Western vibe that has emerged," she continued. "We are going into a period where a lot of the things that we've seen in previous seasons have broken down, so they've got these horses and carriages that are being drawn around instead of cars. Things are lit with oil lamps. People are using different kinds of weaponry. There's a real grittiness to it that I think will be fun and fresh for the viewers."
So what do you think about this glimpse at Season 9? Let us know in the coments below!
The Walking Dead, Season 9, October 2018, AMC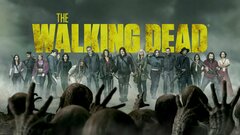 Powered by