Is 'The Proposal' Couple Sophia & Stephen Still Together?
On Monday night's The Proposal, it was three for three as yet another couple emerged by the episode's end.
Stephen and Sophia seemed to be a match from the beginning, as she caught his attention in the first round — revealing that she was from New Orleans certainly appealed to the 27-year-old bachelor. As a New Orleans native himself, he quickly chose Sophia as one of the women he wanted to learn more about.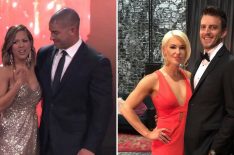 See Also
Find out how these quick matches are doing now.
When it came time for the swimsuit portion of the competition, Sophia set herself apart with a guitar and song — she's a musician, after all — and continued to keep Stephen's attention moving into the next round. Later during the question round, they bonded over their home city, but then Sophia came clean that she's not from Louisiana but rather a student attending school there.
"Is that a yes?"
#TheProposal pic.twitter.com/6ISvdFPLbU

— The Proposal (@TheProposalTV) July 3, 2018
By the end of the night, the competition was between Sophia and Christen Whitney (The Bachelor, The Bachelor in Paradise), but ultimately, Sophia won the night with a proposal from Stephen. So are they still happily together now?
Unfortunately, not every story has a happy ending… The couple didn't last after the evening's merriment, chalking up the broken engagement to timing as Sophia prepared to move back to New York post-graduation.
In videos posted by the contestants on The Proposal's Twitter page, they sing on another's praises and reveal that they're still great friends who talk almost daily.
Sophia and Stephen may not have made it work, but they had a great time meeting on #TheProposal! pic.twitter.com/jzOJG1gWvS

— The Proposal (@TheProposalTV) July 3, 2018
So happy that Sophia and Stephen are still friends. We loved having you on #TheProposal! pic.twitter.com/GjROz2Wqqj

— The Proposal (@TheProposalTV) July 3, 2018
After last week's success with couple Ashlee and Jordan, it's sad we won't have another happy couple in the books. Hey, maybe their friendship will grow back into a romance in the future!
The Proposal, Mondays, 10/9c, ABC