5 Things This 'Sharp Objects' Reader Is Hoping for in the HBO Series
[Warning: The following contains potentially MAJOR spoilers for the upcoming HBO series Sharp Objects, taken from the book inspiration.]
Gillian Flynn is perhaps best known for her chilling novel Gone Girl, which became a cultural phenomenon for its psychological twists and shadowy characters. But it was with her debut novel, Sharp Objects, that she really made her mark as a mystery writer.
The story of Sharp Objects follows Camille Preaker, a Chicago-based reporter who returns to her hometown in Wind Gap, Missouri after the murder and disappearance of two young girls. As she investigates what happened, she ends up traversing through sordid family secrets and repressed memories.
See Also
The actress opened up to TV Insider at the ATX Festival about her new HBO series based on Gillian Flynn's popular book.
Now, the novel has been adapted for the small screen in an eight-part limited series on HBO with prolific showrunner Marti Noxon (Buffy the Vampire Slayer, UnReal, Girlfriends' Guide to Divorce) at the helm.
From a book reader's perspective, there's plenty about the novel we would like the series to preserve, but there are also parts we think could work better on-screen than they did on the page. Read on for five key choices we hope the showrunners make:
Keep Camille's emotional fragility
The most striking thing about Camille is that she isn't your traditional heroine – she's not entirely likable or dependable as a protagonist, but she's fascinating nonetheless.
There probably couldn't be a better actor to play this role than five-time Oscar nominee Amy Adams. Her capabilities in darker roles are well-documented in films like in Arrival and Nocturnal Animals, so playing this emotionally-scarred character, a woman consumed by trauma and depression, feels right up her alley. Camille is like an open vessel, prone to cutting and drowning herself in bourbon. Her knotted interior life and history with self-harm places her in a precarious state-of-mind throughout the story.
It's liberating to have a female character who isn't confined to likability. And we hope that remains the case in the show, that Adams inserts the kind of sadness, grit, and instability that Camille imbues on the page.
See Also
A small-town murder ignites mother-daughter drama in the new HBO limited series.
Depict Wind Gap as a ghost town
A strong sense of setting can be so integral to a story that it becomes a character in its own right. This can be said of the fictional town of Wind Gap, which Flynn illustrates with vivid detail. It's like Camille has reentered a sunken, emotional wasteland, her old demons slinking back into the forefront of her mind as she confronts the life she left behind. Wind Gap feels ethereal, a place where everybody knows each other, and where nobody is as they seem.
It's essential that the miniseries gets the mood of the town just right, which we are optimistic about because the episodes are directed by Jean-Marc Vallée, who also directed Big Little Lies, another series that had a strong, visual backbone. We can only hope that this show is able to fully transport us to Wind Gap and its eerie surroundings.
Add more nuance to Adora
Camille's mother Adora, who is being played by the impressive Patricia Clarkson, is a nightmarish figure in the book. She is poised and refined on the surface, but deeply manipulative and cold underneath. Her relationship with Camille is central to the story and to understanding why Camille is the way that she is.
While Adora is an interesting character on her own, it's hard to sympathize with her because we never get a sense of what's going inside her head. The limitations of the novel only allow us to see through Camille's lens, making Adora evil and in some ways, inexplicable. With Clarkson portraying her, we can glean that there will be more nuance to the character on the show than there was in the book.
See Also
Like 'Big Little Lies,' this show will 'scratch that same dark, murder-mystery itch.'
Walk a fine line with Amma
Amma, Camille's precocious 13-year-old half-sister, is reminiscent of something out of The Virgin Suicides, or maybe even Lolita. She's a wild child who plays games with Camille and is the object of her mother's attention. At home, she's innocent and harmless, but to the town, she's carefree, alluring, and a whole lot of trouble.
Played by Eliza Scanlen on the show, Amma is a character that keeps Camille on her toes. It's sometimes frustrating but also entertaining to watch what the unpredictable character will say or do next, and we hope this translates on-screen without making Amma too unbearable. We also hope the show doesn't sexualize the young character while depicting the energy of someone who tries hard to provoke others.
Give immediacy to Camille's relationship with Richard
Romance is the furthest thing from Camille's mind (and ours) as we delve into the story. Still, she has a love interest in the form of Detective Richard Willis — a role Chris Messina takes on in the series. The young detective who isn't originally from Wind Gap is assigned to the case and develops a flirtatious relationship with Camille. She seems to be attracted to him in return, but her feelings are never entirely clear.
The love affair ends before it really begins: Richard is horrified at the sight of Camille's scars at the end of the novel. As much as it stung to see such a harsh rejection, Richard felt peripheral to the story, making it hard to fully care about him or his connection to Camille. The show may be able to do more to make this partnership more interesting by allowing Adams' and Messina's chemistry play out.
Of course, it's to be expected that HBO's iteration of Flynn's story will keep the essentials and hopefully elevate the material for television. Mostly, we're excited to see the cinematic choices, how the series interprets the moody, ominous atmosphere of the Midwestern town, and how it brings the story to life visually.
The great thing about this is that we'll have several hours to explore these intriguing characters and submerge into the depraved world of Wind Gap, and we can't wait to get caught up in the thrill of it.
https://www.youtube.com/watch?v=asX53aeBPJE
Sharp Objects, Series Premiere, Sunday, July 8, 9/8c, HBO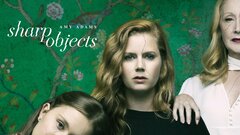 Powered by