'Sharp Objects' Star Amy Adams Teases What's to Come for Her 'Haunted' Character Camille
[Warning: This post contains minor spoilers about Sharp Objects premiere on HBO.]
Looking for a family-friendly destination this summer? Well, it's a good thing Wind Gap, Missouri, is fictional, because you'd be hard-pressed to find any place less suitable. The small town at the center of HBO's Sharp Objects — an eight-part limited series based on the bestselling novel by Gillian Flynn (Gone Girl) and brought to steamy Southern Gothic life by director Jean-Marc Vallée (Big Little Lies) — is a dilapidated hamlet propped up by sinister secrets, where every household merits a needlepoint pillow that reads "Home is where the heartache is."
So it makes perfect sense that when we first encounter Wind Gap native Camille Preaker (five-time Oscar nominee Amy Adams), she's long since established a life for herself elsewhere, working as a newspaper reporter in her adopted city of St. Louis. Two disturbing crimes have been committed in Wind Gap — one young girl was brutally murdered and another has gone missing — and Camille's editor at the St. Louis Chronicle sends her home on assignment to nose around for scoop.
Unfortunately, Camille travels with a lot of emotional baggage, which might explain why she plows through so much vodka. (It's later revealed that Camille cuts herself — an issue she tried to address during a recent stay in a psychiatric ward.) "Camille's demons are definitely outwardly visible," Adams says. "She is haunted by something."
Suffice it to say, Camille's homecoming won't be met with a ticker-tape parade. "This town doesn't want anyone coming in and holding up a mirror to it, and that is Camille's exact plan," says Flynn, who also wrote several episodes. The chilliest welcome comes courtesy of her mother, Adora Crellin (Emmy winner Patricia Clarkson). The wealthy, refined Adora presides over the locals — including her doting husband, Alan (Henry Czerny), and their seemingly ultra-innocent teenage daughter, Amma (Eliza Scanlen) — from atop a gilded pedestal. "Adora is trapped in an old-fashioned world of decorum and manners and grace," says Clarkson. "She doesn't love Camille snooping around and disrupting things."
See Also
Like 'Big Little Lies,' this show will 'scratch that same dark, murder-mystery itch.'
That's putting it mildly. Once Camille decides to forgo her ratty motel room and set up camp in her childhood bedroom, Adora's façade crumbles and the needling takes over. "Camille is not Adora's ideal for a daughter, and her love is not unconditional," Clarkson says. The fact that Camille has the nerve to stand up to her mother — something frowned upon around these parts — only invites more ire. "Adora makes Camille feel so much self-loathing and hate," says Adams. "It was devastating filming those scenes — I often walked away wanting to cry."
Nonetheless, Camille persists in trudging off day and night in search of the killer in their midst. Although the chief of police, Bill Vickery (Matt Craven), is suspiciously uncooperative, the dogged journalist does find an ally — and drinking buddy — in Richard Willis (Chris Messina), a detective brought in from the outside to aid in the stalled investigation. "There's a mutual attraction," Flynn says. "Camille is drawn to Richard, and she also knows that flirting and using her sexuality with him might be a useful tool to get information."
See Also
The actress opened up to TV Insider at the ATX Festival about her new HBO series based on Gillian Flynn's popular book.
Richard isn't the only keeper of clues. Jackie (Elizabeth Perkins), a languid, overtly sexual contemporary of Adora's, seems to know plenty and has a questionable agenda to boot. "Jackie would like to be the queen bee, but she's had to bow down to Adora for decades," Flynn says. Another source of intel? Camille's half sister Amma, who quickly proves to be less of a Pollyanna than a full-fledged Lolita with a mean streak. "Amma is smart and manipulative, but at the same time she's craving love from Camille," says Adams. "They're the only two people who know what it's like being the daughters of Adora."
As Camille gets deeper into her quest for the truth, her already fragile sense of time and place begins to fragment further. Ultimately, a decades-old loss she suffered becomes front and center in her mind, prompting her to raise questions that have been buried for years. "This is a whodunit, but it's also a 'Who is she?' story," Flynn explains. "We'll explore why Camille is the way she is."
The answer isn't going to be pretty — and it may come too late for a happy ending. Cautions Clarkson, "I'm not going to say whether there is or isn't light at the end of the tunnel, but things are going to be… illuminated."
Sharp Objects, Series Premiere, Sunday, July 8, 9/8c, HBO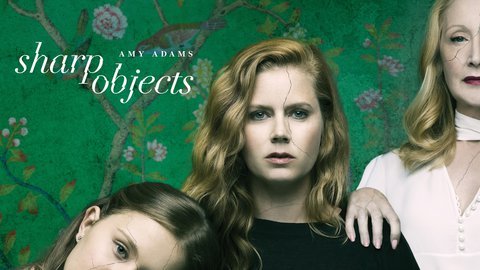 Powered by