New 'GLOW' Actress Shakira Barrera on Bringing Latino & LGBTQ Representation to the Series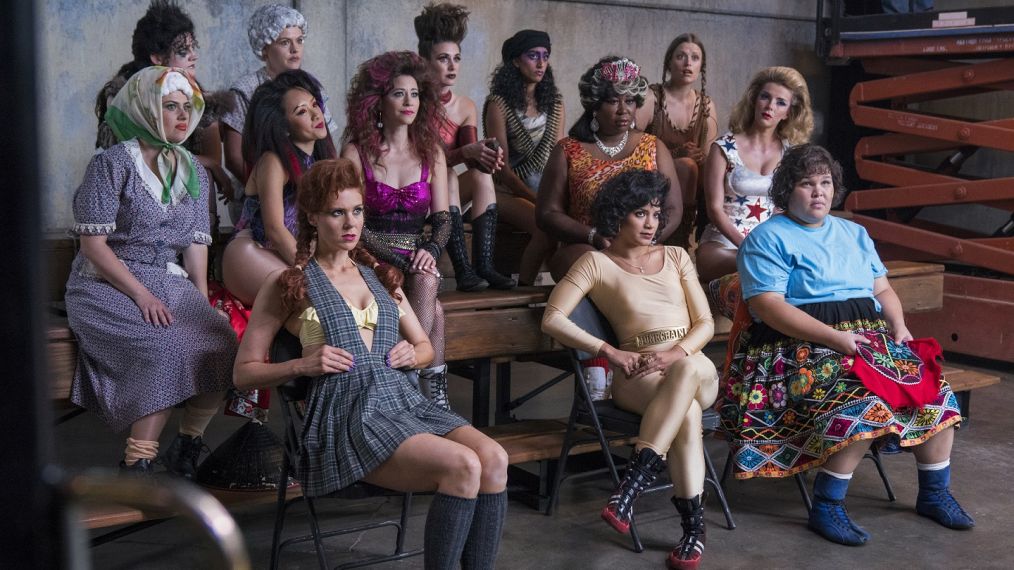 When Shakira Barrera arrived on set for Season 2 of GLOW it truly was art imitating life.
Portraying Yolanda, a Mexican-American stripper/dancer Sam (Marc Marron) recruits to join the eclectic troupe of women wrestlers, the 28-year-old new addition can see a lot of herself in Yo-Yo — with some differences, too.
"Well, I'm not a stripper, but I am a dancer," she said. "I have been dancing since I was 3 years old. [My character] is a little bit more versatile in a sense that she can breakdance, and I never did breakdancing in my life. You'll see Yolanda do a little bit of breakdancing. I think she says a lot more unfiltered remarks than I would. I feel like she would cost me my job if I walked around with her mouth.
See Also
There's no shame in this guilty pleasure!
"We are pretty close in the sense that we are both very caring. I had a similar experience to her walking into the show and not knowing these women. Yolanda went through the same exact thing walking into the ring and not knowing who these women are, and [wondering] if they would accept her. I feel like her and I went through the same journey."
Barrera submitted an audition tape to a casting director, impressed producers and joined the Netflix series not long after. She was already a fan of the show, quirky tone and writing. In her eyes, there is nothing really like it on television.
"I just really worked on being confident and knowing that these women had already made a successful season one. They already had a successful season without me," she said.
"They gave me the blueprint, so I couldn't fail. I knew just walking in that I had a lot to prove, but I wasn't going to let my nerves or jitters get in the way.
"I really wanted to earn my spot in the GLOW family. I feel that really encouraged me to always be a student throughout the entire process and really learn from the girls because I really was behind. I wasn't in season one, so I felt like I had a lot of catching up to do."
Easing the transition was a familiar face in Britney Young, who plays Carmen "Machu Picchu." The two initially met on TruTV's Those Who Can't.
"I just remember her coming up to me, and me thinking that she is the warmest human being on the face of the earth," Barrera said. "Just her smile alone can light up a room. I feel like she was so welcoming toward me. I remember her being one of the first faces who said, 'We're here to support you with whatever you need and have questions with.'
"She showed me that I was going to be part of the family. Sydelle [Noel] also brought me to the SAG Awards as her plus one. That was phenomenal to me. I really can't explain further how beautiful and charming these women are."
See Also
Plus, Young's thoughts on what's going on between Carmen & Bash, ideas for a third season and more!
As for the wrestling side of GLOW, Barrera's dance background helped in some ways. Though she found out quickly that crashing down on a ring mat hurts. The training brought new meaning to the "no pain, no gain" mentality.
"There are wrestling bruises and dancing bruises. Wrestling will take you down for a couple days or more," Barrera said. "The neck injuries from not landing properly will take you out.
"It was easy for me to pick up, in a sense, where my feet were supposed to go and the weight transfer. The coordination between what I'm supposed to do with my hands and feet. That was simpler for me to understand. But it's such a partner type of sport that you really need to be in tune with the other person."
The actress credits the show for casting women of all shapes, sizes and colors. She takes pride bringing more representation for the Latin American community.
"When I watched Season 1 I wanted a Latin person on there," she said. "I'm honored that it's me. I'm Nicaraguan-American. With so many things going on socially and politically in the world right now it's really nice and refreshing that people can see me and know it's possible.
"In Nicaragua, there is so much going on with President [Daniel] Ortega. More than 180 are dead because of the war going on over there. I just feel like as a Nicaraguan-American, I need to show the people they need to dream. They need to know that other things are possible. That's what I hope the show does for them and my character does for them. Shows the misfits or people who think they can't go on that if I can do it, they can do it."
By the same token, Barrera hopes to bring the same sense of empowerment through Yolanda to the LGBTQ community. She believes the character doesn't conform to the social construct.
"I feel like society has put lesbians in a box," she said. "I feel [Yolanda] is someone who stands out and has her own unique personal style. Just to know that she is on other side and an out-and-proud lesbian. I think it's going to be so great for the LGBTQ community."
The dancer-turned-grappler no doubt shakes things up in Season 2. Barrera also teases more focus on the personal lives of the characters and how they intertwine.
"This really is a show for the underdogs," she said. "I hope everyone feels like they can be successful and step outside their own comfort zones by watching."
See Also
The actress' comedy background with the Apple Sisters helped flesh out the characters.
GLOW, Season 2 available Friday, June 29, Netflix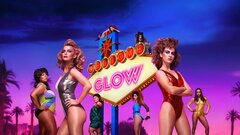 GLOW
where to stream
Powered by