It's Coming up Roses for Former 'Bachelorette' Contestant & Ring of Honor Star Kenny King
After winning over different kinds of fans last year on the 13th season of The Bachelorette (Rachel Lindsay's season) as Kenny King the man, the pro wrestler Kenny King continues to make strides in Ring of Honor Wrestling. But the longtime performer still feels the impact he made on "Bachelor Nation."
"They are every bit as rabid and engaged as the pro wrestling fan base," King said, gearing up for a big match at ROH's Best in the World on June 29.
"People still come up to me in airports and talk to me like they know me. I'll be out sometimes, and the rare times I'll be at a night club someone will ask, 'How is your daughter? Where is your daughter?'
"It's an interesting experience versus wrestling, where you meet the fans and they know your body of work or character. With something like The Bachelorette, fans know me and know about me. That's the difference, but the fan base is every bit as engaged, interactive, as wrestling fans."
See Also
Get to know Kenny King, pro wrestler and one of the favorites this season of ABC's 'The Bachelorette.'
King is proud to have had a role in creating new enthusiasts for ROH through the ABC series, and vice-versa. He still sees it every week through social media or during meet-and-greets at events.
"Guys will come up to me and say, 'Man, the only way I was even able to get my girlfriend to come to this show was because I told her the guy from The Bachelorette was coming," he said.
"Then wresting fans say, 'I would have never watched The Bachelorette if you weren't on it.' We're definitely getting some new eyes on the product. Just based on the sheer size of The Bachelor and The Bachelorette franchise."
King hinted to another project he is involved in that could add more crossover fans for ROH. The 36-year-old believes it's a great time to follow pro wrestling. As for someone who has been in the business for the better part of 16 years, it's a great time to be in pro wrestling, too.
"Guys can go and make a living in so many different places," he said. "I think it's a beautiful thing … It's not, 'I have to go to WWE. I have to go to WCW.' There are a lot of different places, and this resurgence is even on the indie level. That is what is kind of boosting popularity in wrestling all around. When you are looking at the independents of pro wrestling, looking at the roots and heart of pro wrestling.
"Guys who are doing it and getting better because they love to do it. With social media, internet, where you can see an up-and-coming guy from Tennessee or from Vegas or Florida. You could tape trade back in the day. That's how you found out about an AJ Styles or an Amazing Red. Now you can find it so easy. That is what is making wrestling popular again. It's a wonderful thing."
ROH is helping with accessibility by launching an HonorClub. Members have ability to watch live streaming PPVs and live events, as well as get discounts on merchandise and revisit the company's history through a library of content. King can see this building upon what made ROH popular in the first place, the DVD releases.
"It was a sequence of chronological shows that led up to bigger shows throughout the middle of the year and end of the year," he recalled. "That's how they knew and followed the stories.
"When you have something like this, it goes back to then where you can watch whatever show if you missed something …They are putting as much content as they can on there. So that people can catch up, keep up. The TV shows are on there too. If you want to be fully invested in Ring of Honor as your main wrestling company, now you have a way to do that."
ROH and its owner Sinclair Broadcasting Group continue to look for new ways to grow the brand. Seeing the increase in popularity and demand, management is clearly looking to run bigger buildings. That at one point included Madison Square Garden. Plans were to run the iconic venue, but reports were WWE wasn't happy and caused the potential event to be called off. King, a New York City native, was disappointed.
"Madison Square Garden was a venue I would love to perform in. I was curious and proud of the company all at one time when I saw that they may run it," King said.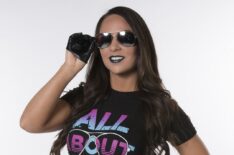 See Also
'I feel revived and alive again with wrestling,' the former WWE star tells us.
"I was curious about what Vince [McMahon] and the other guys were going to do. And you saw exactly what they did. I think that just means if they are coming down from on high to prevent us from running a one-time event in a venue that they 'own' essentially, it means they are paying attention a lot more than they are letting on.
"That's a good thing. It goes back this resurgence where there was a time when they weren't paying attention to anyone forever, or so they lead us to think. But with wrestling, everybody is looking at everybody."
ROH may not end up in MSG anytime soon, they did confirm Death Before Dishonor in the 9,500-seat Orleans Arena in Las Vegas in September. Over the course of King's two stints with the promotion, he has developed an appreciation for Sinclair's business model. He believes there slow and steady approach is effective.
"They just throw money around unnecessarily or make large strides, but they do make incremental gains," he said. "That's what has gotten Ring of Honor, even the last three years, I can see from the time I got back until now. I can see the gains. Now you talk about making those type of leaps to larger arenas. They don't do things that aren't calculated as far as I've seen.
"They don't do things based on emotion. If this is the leap they want to make into bigger venues, as a performer I know I'm up to the task of entertaining that many people and putting that many people in seats, I'm excited for it. I feel it's a great time to be where I'm at and the company has shown no signs of slowing down."
King's attention turns to Friday's Best in the World, where he squares off with a familiar opponent in Austin Aries. This match is unique as Aries remains very active in Impact Wrestling as its heavyweight champion. For King, it's a bout based on respect. They share the same pride and goal of outdoing one another. The former ROH tag team and television champion is all for this type of collaboration, producing more variety and unique opportunities.
"People realize that WWE is the modelist. Nobody feasibly is going to run neck-and-neck there," King said. "But we can all compete and get a piece of the pie. I think when you have synergy within the wrestling business, it's good. You just saw Lucha Underground versus Impact Wrestling show. For it to be built like that, I thought it was great. Inter-promotional can create dream matches.
"I think it's a good thing that kind of cooperation allows us to tell our story. Austin and I have lots of history. So, for him to be able to come into one of our bigger shows and Pay-Per-Views and have a match and tell our story, I think it's what is best for business. I'm glad everyone is able to see what is best for business."
Ring of Honor Best in the World, Friday, June 29, 9/8c Live, Pay-Per-View and through ROH's HonorClub
Ring of Honor Wrestling airs in syndication each weekend in the U.S. (check local listings). You can also watch online Sundays at 10/9c on CHARGE! (http://www.watchcharge.com), Wednesdays at 11c on Stadium (watchstadium.com) and Mondays at http://ROHWrestling.com.