'The Pacific War in Color' Sheds New Light on a Dramatic Past (VIDEO)
If you're a history buff, Smithsonian Channel has a new series for you.
The Pacific War in Color premieres Sunday and brings rare and never-before-seen footage from every corner of World War II's conflict in the Pacific Theater of operations.
The eight-part series features rare color home movies from servicemen and even General Douglas MacArthur to reveal a look we've never had of the war, which we tend to be more familiar with through black-and-white film footage and photos. Each episode of the series brings first-hand looks from the men and women who lived through the war, from the attack on Pearl Harbor to fighting in the Philippines, Burma and on Iwo Jima.
See Also
But there may be a movie in the works.
Sunday's premiere episode, "An Ocean Apart," reveals the first color images from locations like Midway, Wake Island and Guam before they were torn apart by war. Also, viewers will get a new perspective on the surprise attack at Pearl Harbor in Hawaii on December 7, 1941.
Here is an exclusive clip from Sunday's premiere episode, featuring Pauline and Johnnie Falk as they climbed aboard one of the inaugural commercial flights across the Pacific in the Pan Am Clipper:
The Pacific War in Color, Sundays beginning June 24, 8/7c, Smithsonian Channel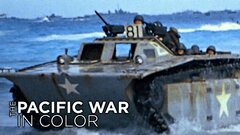 Powered by