Porsha Williams Spills About Her Experience on 'Love Connection'
Who better to set you up on a date than your boss/friend?!
On the next episode of Andy Cohen's Love Connection, he uses his matchmaking skills to set up Real Housewives of Atlanta star Porsha Williams.
The Georgia Peach spoke with TV Insider about searching for true love, if she'd ever consider another reality TV dating show, and if she's still seeing any of the guys she met on Love Connection.
How would you describe your experience on the show?
Porsha Williams: The experience was eye-opening, because I really didn't expect to like the candidates the way that I did. I thought Andy did a really good job of picking guys. I was pleasantly surprised. I want someone who is ready to settle down, who's dating with a purpose, and someone who wants love, a family, who's ready for the next level of life.
What are some warning signs you look for when dating?
I don't like when people hide their phones too much. In the beginning, okay, people that strings that are still attached but after you decide you want to be with someone, I feel like you should be pretty open. Not necessarily give me the code to your phone but all the hiding the phone … I don't like people who are secretive.
How did you like the dates you went on?
With one of the guys, we went to a carnival, and it was really fun. Someone drew our picture, and it was just a really fun date. One of the other dates was axe-throwing, and oddly enough, I'm really good at that!
Would you ever consider going on another dating show?
I think something like The Bachelorette. I would love to have [the men] fight for me. That'd be great. For me, it has to be the right format. [Love Connection] was great because Andy is serious about wanting to help me find love. He knows by whole journey and he knows that I deserve it.
What did you learn from being on the show?
In the beginning, I was just totally afraid to do it. I've never on a blind date before so I had all of my trust in Andy's hands. I'm a hopeless romantic and I know what I deserve and I'm not gonna stop until I get it. The guy that I picked, we actually went on a few more dates and we'll see.
What are some other projects you're working on?
I'm preparing for some scripted roles that I have lined up. I'm expanding and rebranding my hair line, Go Naked. And also possibly working on a makeup line.
Love Connection, Tuesdays, 9/8c, Fox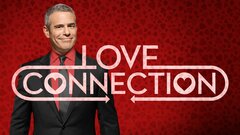 Powered by