5 Things to Know About 'Condor' Star Max Irons
You can hardly fault Joe Turner, the idealistic CIA analyst played by Max Irons on the new spy thriller Condor, for showing signs of wear and tear. After all, the poor guy inadvertently uncovered a vast government conspiracy, setting off a lethal chain reaction that's forced him to go on the lam ever since.
So what is Irons's secret to looking suitably stressed? "Worried and anxious is my default mode," jokes the U.K. native. "They just have to roll the camera." Behold, a handful of other essential tidbits.
1. He'll drink to that.
Before his career took off (his big break was the 2011 flick Red Riding Hood), Irons tended bar in London while attending grad school for drama. If Condor were a cocktail, what would it be? "A neat shot of whiskey, because it's quick and it hits you good and hard," he says.
2. He understands chivalry.
While evading a manhunt, Joe has been holing up at the home of his recent Tinder date, Kathy Hale (Katherine Cunningham), against the unlucky lady's will. "Generally speaking, kidnapping is not a good way to convince someone of your wholesomeness," acknowledges Irons. June 27, though, Kathy might finally start to believe his story.
3. He is pro-pet.
In order to maintain his own safety, Joe was willing to let a neighbor's kitty starve, but Irons swears he doesn't share that attitude toward felines — and not just because he's scared of the blowback. "If there's one group I fear," he allows, "it's cat people!"
4. He is fully flappable.
As the son of acting royalty — Dad is Oscar winner Jeremy Irons — surely Max felt totally chill around costars William Hurt (as Joe's CIA mentor), Mira Sorvino (an unsympathetic CIA investigator) and Brendan Fraser (an unpredictable mercenary)…right? "No, in fact, not at all," he confesses. "I get just as starstruck as the next person!"
5. This is his destiny!
The opportunity to channel Jason Bourne has been a long time coming. "When I was a kid, I'd run around in the garden making pretend guns out of pieces of wood," Irons says. "This is a bit of a dream come true for me!"
Condor, Wednesdays, 10/9c, Audience Network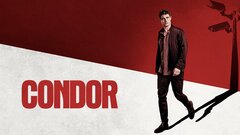 Condor
where to stream
Powered by