Netflix News Roundup: Tony Danza's Back, Barbra Streisand's Deal, Shondaland's New Show
We're starting off the week with some big news and notes regarding the streaming giant that is Netflix.
Shondaland Breaks Ground
Months after it was revealed that Shonda Rhimes had struck a deal with the streaming service, her first show has been finally been announced. Rhimes's project will focus on the story of Anna Delvey, which was told in the New York Magazine article "How Anna Delvey Tricked New York's Party People," by Jessica Pressler. According to Variety, Rhimes acquired the rights to the story about Delvey, who conned the high society folks of New York City by pretending to be a German heiress.
The Tale of Two Tonys
Okay, so one of them isn't named Tony, but Tony Awards host Josh Groban and Tony Danza certainly make an interesting pair in the teaser for their upcoming show, The Good Cop. The new series, featuring the stars as father and son, is sure to make a splash when it hits the streaming network on September 21. From the creator of Monk, this comedy about two generations of very different kinds of cops — one disgraced, one buttoned-up — is sure to satisfy.
Babs Strikes a Deal
Wrapping up Netflix's FYSee awards promotion, Variety reports that during a discussion with Jamie Foxx, Barbra Streisand revealed six of her "vintage" specials are coming to Netflix soon. These titles are just part of her deal, as she'll also be releasing an expanded version of her 1976 film, A Star is Born.
Apparently, It's Not The End of the F***ing World
According to Vulture, the writer of the teen-focused dark comedy The End of the F***ing World has struck another deal with Netflix. Charlie Covell is reportedly working on a 10-episode, hour-long series, titled Kaos. Much like Covell's past project, Kaos will have dark themes but is also described as a "reimagining of Greek mythology."
Netflix Lands on Mars With Away
Get ready, Friday Night Lights and Parenthood fans, because the creator of those shows, Jason Katims, is heading to planets unknown for his latest project, Away. The Hollywood Reporter reveals that Katims' new show is based on the Chris Jones Esquire story by the same name, following real-life astronaut Emma Green's year-long venture to Mars as she leaves behind her husband and teenage daughter.
Meet Your Host, Ryan Murphy
In a recent interview with Entertainment Weekly, Ryan Murphy revealed that his dream project would be a talk show similar to David Letterman's My Next Guest Needs No Introduction. "I want my own talk show… Just me and one of the people that I love."
Season 2 Still Has a GLOW
According to the new trailer for Season 2 of Netflix's hit GLOW, this set of episodes is gearing up to be just as wild as the first. In the clip, the ladies deal with a range of challenges, from racism to sexism. But don't let this fool you — they're still tough as nails in the face of adversity.
Claire in Charge
After months of disruptions and pickups in production, Netflix is offering its first look at some images from House of Cards's sixth and final season. Featured is Robin Wright reprising her badass role of Claire Underwood. No word yet on an exact return date, but it is anticipated some time later this year.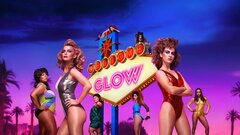 GLOW
where to stream