Stephen 'tWitch' Boss & Allison Holker on 'Disney's Fairy Tale Weddings' & Their Own Special Day
The royal wedding may have come and gone, but we still have a summer filled with aspirational, tear-jerking nuptials, thanks to Disney's Fairy Tale Weddings!
The Freeform series is back, starting June 11, with six captivating episodes following couples as they celebrate their own special love stories with the help of the magical folks at Disney. Of course, this means plenty of castle backdrops, but also expect some rustic outdoor settings — and all set in Disney destinations around the world.
See Also
From a page boy's excitement to Prince Harry complimenting his bride.
This season, So You Think You Can Dance alums, hosts, and married couple Stephen "tWitch" Boss (The Ellen Show) and wife Allison Holker (Dancing With the Stars) are serving as hosts to guide these pairs on their journeys down the aisle. TV Insider spoke with the two ahead of the premiere to find out their favorite moments of the season — and find out more about their own real-life love story.
What's the most eye-popping wedding we'll see this season?
Stephen "tWitch" Boss and Allison Holker: We wouldn't want to give away too much. You will see all sorts of weddings — really intimate, big and lavish, and some with special surprises. But what you will see at every wedding is love. It's also difficult to zero in on just one wedding to be considered 'eye popping' because each ceremony is meticulously planned down to every detail. That's what makes each one special in its own right. These Disney wedding planners know exactly what they're doing.
Which one of you is more sentimental about weddings?
Both: We are both sentimental about weddings. That's why we felt so honored to be able to host Disney's Fairy Tale Weddings. We get to enjoy and be a part of people's biggest moment of their lives. The decision to follow and spread love.
What's the best part of a wedding, in your opinion?
Holker: My favorite moment is watching the groom see the bride walking down the aisle, you can feel all the emotion and they are just radiant with love. There are so many moments in this season that we have been moved to tears and reminded us how beautiful that commitment to love truly is.
Was there anything you saw that made you think, we should have done that at our wedding?
Both: Our wedding was perfect and every wedding we attend reminds us of our beautiful day full of love. The one and only thing that we didn't get was video of us saying our vows to each other. So instead we have a custom canvas that has our vows written out.
What are your favorite memories from your wedding?
Holker: I'll never forget Stephen's face as we said our vows to each other. I could see all the love filling up inside him.
Boss: I 100 percent agree with Allison. Not too many people tell you how quickly the moments of the day pass by and while I'd like to think my memory will serve me best for the rest of my life, it's about capturing those moments to look back on later. So yes, the photos and videos all throughout the day are important. Not just after the ceremony.
Disney's Fairy Tale Weddings, Monday, June 11, 8/7c, Freeform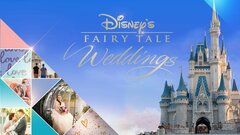 Powered by