Gibbs Almost Had Another Ex-Wife on 'NCIS' — A Look Back at His Romantic History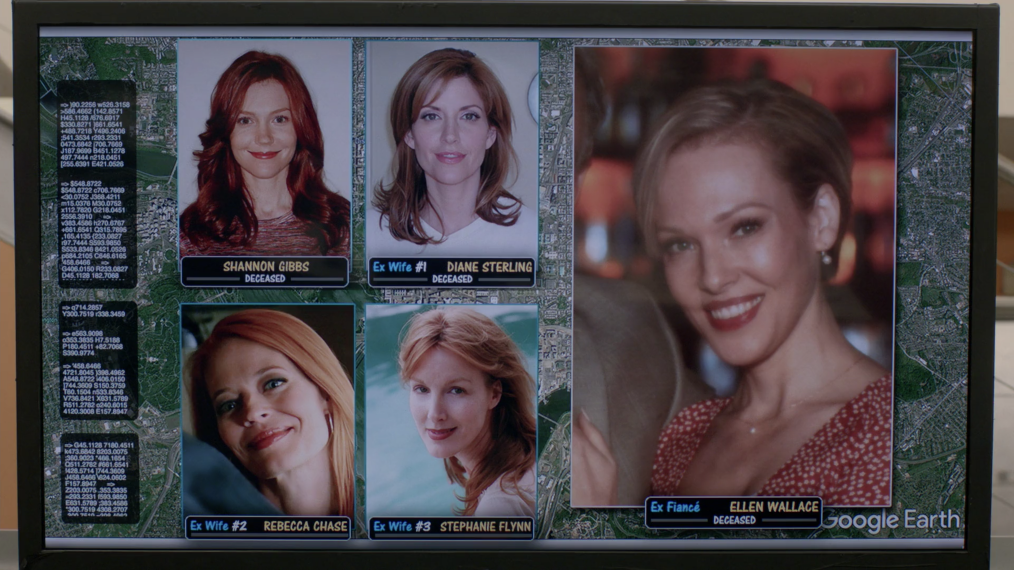 [Warning: The below and gallery above contain MAJOR spoilers for Season 16, Episode 20 of NCIS, "Hail and Farewell."]
The Gibbs' Wives Club continues to (almost) grow on NCIS.
Leroy Jethro Gibbs (Mark Harmon) isn't one to share information about his personal life, but when it becomes relevant to an investigation, the members of the team learn more about their boss. Such is the case in the April 16 episode.
In "Hail and Farewell," the team looks into the death of Major Ellen Wallace (Erin Cummings), whose remains are found at a construction site, though she was believed to have been killed in the 9/11 attack on the Pentagon. Bishop (Emily Wickersham) and Kasie (Diona Reasonover) discover Gibbs and Ellen were engaged.
"Gibbs never talks about his personal life," McGee (Sean Murray) reminds the others. "We only find out about it when it's part of a case." That's when he breaks out the Gibbs' Wives Club infographic (above).
When Gibbs' blood is found on Ellen's clothing, Gibbs finds himself on the other side of the interrogation room table. Jack (Maria Bello) steps up to question him (since no one else wants to) and notes something very important during their conversation.
Gibbs says the reason why he ended their relationship was "complicated." However, that's different from his previous failed relationships. Usually, his exes were the ones who ended the relationships. Ellen was different. Why?
Gibbs admits to Ellen's father (Garrett M. Brown) that he left her because he loved her. "And that never ends well," Gibbs says.
"I was trying to do the right thing for her, but she still ended up here," he tells McGee at Ellen's funeral.
Gibbs has a point. Ellen's not the first woman to have been in a serious relationship with Gibbs who has died. Click through the gallery above to see all of Gibbs' major romantic relationships.
NCIS, Tuesdays, 8/7c, CBS