A '9 to 5' Reunion? Dolly Parton May Stop by 'Grace & Frankie' Amid Netflix Deal
Netflix's beloved buddy comedy Grace and Frankie already stars two beloved icons, Jane Fonda and Lily Tomlin. But this duo may become a trio soon!
This week, it was teased that Dolly Parton could stop by for a guest role in the coming season. Parton, Fonda, and Tomlin headlined the iconic workplace comedy 9 to 5 in 1980, and fans have been dying for a reunion ever since — something they got a taste of when the three presented together at the 2017 Emmys. During a For Your Consideration event, the Grace and Frankie cast spoke about their hopes for the country legend to stop by.
When first asked about Parton joining the show, Grace and Frankie creators Marta Kauffman and Howard J. Morris voiced their support for a Parton appearance, according to Deadline,but claimed scheduling was to blame for her lack of presence in prior seasons. Tomlin added that it may be difficult as Parton has her own deal with Netflix in the works.
Details on Parton's deal were made public on Monday, as the streaming service shared that it has partnered with the multi-hyphenate on an eight-part anthology series. The episodes would be based on Parton's songs with each installment covering a song a piece.
Much like her NBC films, Coat of Many Colors and Coat of Many Colors: Circle of Love, Parton's Netflix project will see her take on the role of executive producer, singer-songwriter, and she will act in the series.
The country star made a statement, "As a songwriter, I have always enjoyed telling stories through my music. I am thrilled to be bringing some of my favorite songs to life with Netflix. We hope our show will inspire and entertain families and folks of all generations, and I want to thank the good folks at Netflix and Warner Bros. TV for their incredible support."
From the sounds of it, Parton isn't likely to show up in Season 5 either, but with the popularity of the show, if a sixth season is in the cards, could we see that 9 to 5 reunion? We sure hope so.
Grace and Frankie, Streaming now, Netflix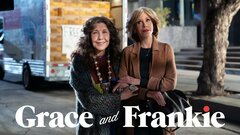 Powered by