'Shooter' Season 3 Premiere: Ryan Phillippe on What's Next for Bob Lee
Sure, life imitates art — but in the case of Shooter, it changed the way the story was told.
Last July, the thriller's star, Ryan Phillippe, who plays ex–Marine sniper Bob Lee Swagger, broke his leg in an off-set accident. Production shut down and the eighth episode served as an ad hoc finale — leaving Bob Lee stranded as the hostage of his nemesis and fellow sharpshooter, Solotov (Josh Stewart).
Phillippe explains how he'll hit the ground running in Season 3.
Are you all better?
For the most part. It took 24/7 dedication. I was training while I was still in a wheelchair! I had to make sure I could physically play the role.
Has this had an impact on Bob Lee's journey?
The plan had been to do the first three seasons as a stand-alone trilogy, with the hope that we could begin a new trilogy with Season 4. In some ways, my accident was a gift because we were able to figure out how to wrap up this part while launching the next.
What's next for Bob Lee?
The premiere is a continuation from where we ended. After resolving the situation with Solotov, Bob Lee will look into his own dad's death.
Let me guess — suspicious circumstances?
These past events are connected. The people who set Bob Lee up for the assassination attempt, who sent Solotov to take out his unit in Afghanistan, who were a force in his father's life… it's the same organization!
That certainly explains his unlucky streak.
We're learning that none of this was by accident. And in order for Bob Lee to break free, he has to go to the source of where it all began: back to the beginning
Shooter, Season Premiere, Thursday, June 21, 10/9c, USA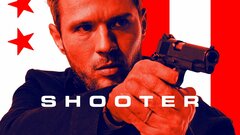 Shooter
where to stream
Powered by