'Days of Our Lives' Star Robert Scott Wilson on Ben's Return: 'I'm Very Grateful They Didn't Make Me a Twin'
It's hard to keep a good man down — or in this case, a bad one.
Actor Robert Scott Wilson is bringing Ben Weston, his killer character (with a killer bod!), back to Days of Our Lives on Friday, June 1. Ben was last seen being taken back to jail after Sami's (Alison Sweeney) plan to have the serial killer re-enact strangling her son Will (Chandler Massey) — in order to restore his memory — failed!
This time, Ben will be in Salem for a while as the actor has signed a contract with the NBC soap. Read on to get the dish on the serial killer's return!
Can you talk about how this came about?
Rob Wilson: I've always kept everyone at Days near and dear to me. We did some great work and I appreciate them. The show has come up with a phenomenal way of bringing Ben full circle and putting him in a different light without him losing his edge. They're writing the balance between vulnerability and danger. I love playing Ben.
They could have gone the twin route as Ben has, you know, killed people. How do you get inside this guy's head?
I've watched documentaries and stories of people who lose it or who have split personalities and how they do things where they black out. I come to work and leave exhausted whether I have a full day or just a couple of scenes. I try my best and I appreciate them writing me such great stuff. I'm very grateful they didn't make me a twin.
How do you keep it quiet that you're back on the show with it taping so far ahead?
Our fan base is hardcore. I let it leak a little bit about my whereabouts on social media. I'll throw up on Instagram some stories and they'll see I'm at the Burbank Studios [where Days shoots] and they pretty much know what that means.
Fans know what the insides of the Days dressing rooms look like.
They know everything!
You posted on social media in February a video of you visiting CBS Television City where you worked as the first male model on The Price Is Right. Some speculated you were reading for a role on a CBS soap.
We had some talks with other projects, but CBS was my old stomping grounds for a while at Price is Right. I know a bunch of people over there. I'm always there in that neck of the woods. I think [my visit] got taken out of context. There were rumors about my taking on another role, but that wasn't in the cards for me. I'm so grateful because we ended up signing a deal here at Days.
What were you thoughts when you learned Ben was going to be a killer?
The first thing was, 'Well, that's interesting and it's all for the benefit of the story.' From that point I went into it and did what I love. I took the ball and put it in the end zone. I didn't see it as a door closing. I saw it as a way to stretch as an actor. Ben was a little more generic in the beginning. He had some story, but you really can't feel for anyone until you see them go through trauma, tragedy, and triumph. The writers have written these awesome stories for me that are still continuing. I'm so grateful. We're not going to lose that guy, but we'll also see Ben in a different light.
Some of your first scenes for this return will be with Dr. Marlena Evans (Deidre Hall). A shrink is a great character to pair with Ben!
It's funny you should say that. I'm not only one of Deidre's biggest fans, but I think she's one of mine, too. She's a fan of me being here. She kind of rallied for me to be back here — I want to give a special shout out and thank you to Deidre. I love working with her and love her more as a person. She's just awesome. She's got my back and I've got hers. After our scenes, she'd say, 'Get this kid a contract.'
You played Pete Courtlandt on the online version of All My Children in 2013. There was a provocative sex scene with Pete and Colby (Brooke Newton) that really pushed the envelope. Do you think the genre should go there or leave it to the imagination?
I believe in leaving a little to the imagination and the fantasy, but I'm always a fan of pushing boundaries. It's good for the genre. I was a fan of what they were doing [with the AMC revival]. We were online and I don't think a lot of our demographic was ready to go there to watch their soaps. Since then, the world has changed and everybody is streaming content.
Will we see Ben interacting with characters he hasn't in the past?
For sure. You'll see me with some new face and some familiar ones. There's one in particular I'm working with and we're getting great [internal] feedback. I'm excited to see what the future brings.
Wilson returns to Days of Our Lives, Friday, June 1, Check Local Listings, NBC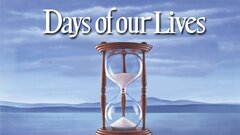 Powered by