Roush Review: 'Man in an Orange Shirt's Love Story Bridges Generations
The love that dared not speak its name finds heartbreaking new voice in a powerful Masterpiece movie that bridges generations with its tale of repressed and forbidden affections.
The story opens during World War II, when British soldiers and former school chums Michael (Oliver Jackson-Cohen) and Thomas (James McArdle, of Broadway's Angels in America revival) reconnect and fall in passionate — though secret — love.
See Also
Hawke is the daughter of actors Uma Thurman and Ethan Hawke.
They enjoy a brief postwar idyll in a country cottage until they're forced to face the realities and obligations of 1940s society, which considers homosexuality a crime.
Cut to present-day London, where Michael's stern widow, Flora (Vanessa Redgrave), lives with grandson Adam (Julian Morris). He's a not-quite-out veterinarian who meets anonymous partners through a dating app, scouring his body afterward in showers of self-denial.
See Also
The new film dives deep into the starlet's life like never before.
When Adam begins a tentative relationship with Steve (David Gyasi), an architect who makes it clear, "I don't do casual," their path takes them back to that fateful cottage. It's where, once upon a very different time, Thomas sketched Michael for the painting that gives the movie its title and Adam and Flora the epiphany they need to accept love in all its varieties.
Man in an Orange Shirt, Sunday, June 17, 9/8c, PBS (check local listings at pbs.org)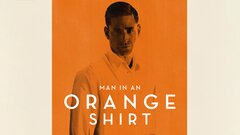 Powered by