Shonda Rhimes' Collaboration with Scott Foley and Greg Grunberg Among ABC's Next Round of Comedy Pilots
Shonda Rhimes has teamed up with Felicity buddies Scott Foley and Greg Grunberg to produce the ABC comedy Toast.
That's one of several more pilots picked up by ABC on a busy Thursday afternoon. The network has also greenlighted a new comedy pilot starring Gabriel "Fluffy" Iglesias (last seen on the network's Cristela) as well as the dysfunctional family comedy Hail Mary, based on an Austrian format; an untitled comedy co-written by The Mindy Project's Ed Weeks; and the drama Notorious, based on the true-life stories of famed criminal defense attorney Mark Geragos and cable news producer Wendy Walker.
Toast is from a story by Foley and Grunberg, who will serve as executive producers with Rhimes and Betsy Beers. The show takes place " over the course of Max & Page's wedding rehearsal dinner, [as] their eclectic family and friends give toasts recalling anecdotes about the couple – but flashbacks reveal the toasts don't always get it right, as we watch the real story of their complicated, funny, and relatable road to marriage."
Foley, of course, is already in the Shondaland circle because of Scandal.
The Fluffy Shop stars Iglesias as a stepfather and boss to his family and friends, "while he navigates his home life during the few days he spends off the road each week." The multi-camera show is executive produced by Tim Doyle, Jay Lavender, Iglesias, Joe Meloche, Becky Clements and Marty Adelstein.
Hail Mary, based on the Austrian Broadcasting Corporation series Braunschlag (created by David Schalko) is about "a young small town mayor named Mary Wolf [who] has dysfunctional siblings, a dying father, disgruntled citizens, a nearly bankrupt town, and the mafia breathing down her neck. Only a miracle can help her. So… she fakes one."
The single-camera show comes from writer Brian Gallivan and director Seth Gordon, who are executive producing with Tariq Jalil/Intrigue.
The untitled Ed Weeks/Hannah Mackay show centers on " an unapologetic lesbian and her best friend, a neurotic straight male, [as they] navigate their dysfunctional, co-dependent friendship and the world of dating."
Weeks and Mackay are executive producers with Andrew Reich and Kindle Ent.'s Siobhan Bachman.
ABC also added another drama to its roster: Notorious, "a provocative look at the unique, sexy, and dangerous interplay of criminal law and the media."
Josh Berman is executive producer, along with Geragos, Walker, Kenny Meiselas and Prospect Park's Jeff Kwatinetz, Josh Barry and Brian Gersh.
ABC Studios is behind Toast, the Weeks/Mackay project, The Fluffy Shop, while ABC and Sony are jointly the studios on Hail Mary and Notorious.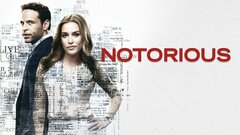 Powered by