Meet Simona Brown, 'Outlander' Season 4's Gayle
The Season 4 premiere of Outlander will swiftly be upon us which means, we'll not only see our favorite TV couple Jamie and Claire Fraser (Sam Heughan and Caitriona Balfe) making a new life for themselves in Colonial America, but we'll also be introduced to a bevy of new characters.
Starz recently announced they've cast five actors in the time-traveling drama. They are: Billy Boyd as Gerald Forbes, Caitlin O'Ryan as Lizzie Wemyss, Natalie Simpson as Phaedre, Tim Downie as Governor William Tryon, and Simona Brown as Gayle.
See Also
Plus, check out new photos from Season 4!
Excluding Gayle, the rest of the characters will be part of 18th-century America. So, who is this mysterious Gayle?
Well, in Diana Gabaldon's book Drums of Autumn (on which Outlander's fourth season is based), she's Brianna Randall's (Sophie Skelton) best friend and chatty roommate in college, who loves a man in a kilt.
She's not a major character in the book, but will hopefully have more time onscreen. Maybe she'll even help Brianna prep before she travels through the stones back to her real parents.
See Also
Caitriona Balfe & Sam Heughan just landed major movie roles.
And if we're going to be potentially seeing more of Gayle, let's get to know the actress portraying her: Simona Brown.
Her acting credentials include parts in The Night Manager with Hugh Laurie and Tom Hiddleston; the British horror-thriller series Kiss Me First (which will be available to stream on Netflix starting June 29); and the upcoming AMC/BBC miniseries The Little Drummer Girl with Alexander Skarsgård and Michael Shannon.
Here's a little peek at her social media:
Outlander, Season 4, November 2018, Starz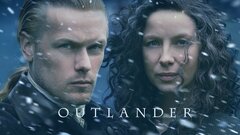 Powered by