RIP Vivian! Lauren Koslow on Her 'Days of Our Lives' Rival Going to the Great Soap in the Sky
Days of Our Lives' Kate DiMera (Lauren Koslow) and Vivian Alamain (Louise Sorel) have had such a great feud, Ryan Murphy could make a maxi-series out of it!
Alas, it appears to have come to an end in light of the gun struggle that went down between the two on Thursday's episode.
Koslow tells TV Insider on what it was like working with Sorel over the years and how she'd feel if this bitch-tastic feud is ever resurrected!
See Also
Doug and Julie have been through it all ... but the popular acting duo is thrilled to get their big award! See what they told us.
This appears to be the end of the Kate/Vivian feud. Say it ain't so!
Lauren Koslow: I have to say first that it's been absolutely amazing and awesome to be working with Louise again. I have loved absolutely every minute of it. There'd been so much that was unresolved between the characters. We just plunged right back into the middle of it. For viewers who may not have been familiar with their relationship, I think the writers did an amazing job of encapsulating our history.
Head writer Ron Carlivati and his team do a great job of bringing newer viewers up to speed quickly and then getting right into the action.
Yes! There's a rich history there. As actors, it's tremendous to get the opportunity to play that.
Kate and Vivian rehashed their feud when they were trapped in the hidden room with Marlena (Deidre Hall). Vivian always blamed 'herbs' for burying Carly (Crystal Chappell) alive. I love that Kate shot back: 'You mean like basil oregano?'
[Laughs] Yes! It was getting back to the wit. Kate and Vivian were often very sharp with each other. It was more like Noel Coward than anything else. They'd also take each other down and pull each other's hair. It is French Farce and English drawing room comedy.
You screen-tested with Louise when you won the role of Kate in late 1995.
I did. I screen-tested with Louise and Ivan [G'Vera, ex-Ivan]. She was incredibly supportive during my audition. She talked to me beforehand and was so lovely and supportive. You don't often see that.
Some name actresses also screen-tested for Kate, too, including two former Dallas stars, but Louise has said you were the only one for the part.
I've never heard that, but I'll say she was very gracious. For people who've never been through the audition process, I can tell you that it's not always a gracious process! It's usually very difficult. I've never forgotten how wonderful and supportive she was to me. She told me about the relationship between Vivian and Kate. She was always there for me from the beginning.
Did you have stunt doubles for these most recent scenes?
No, and I actually did fall! Because of the trousers I wore! They were extremely fashionable, with very wide legs, and I was wearing high heels, so when we were struggling with the gun I fell back. My heel was caught on my pant leg, and I went flying and smacked my head.
Ouch!
Everyone came running over. One of the producers came over and said the stunt coordinator would follow me around the rest of the day. But, hey, I'm from the theater. If something like that happens, you just get up and continue working!
See Also
The arrival of Stefan DiMera in Salem has stirred things up in a big way. We talked with 'Days' stars Deidre Hall and Tyler Christopher to find out what's coming next.
Tell me about gun safety on the set. There have been horrific accidents over the years.
Yes. There's always gun safety. They're very serious about that. [Production] goes over the gun and they show you that [the barrel] is actually empty. That frees you up to do what you need to do.
It's been said that many die in Salem, but few are buried, so Vivian could always come back.
I'd love to see Louise come back to the show someday. Kate and Vivian's relationship is very important. I'd love to see her resurface especially because the audience responded to this last return so well.
How will Vivian being gone affect Kate?
Well, [Kate] is not an evil person. I don't think either of them knew where this was going to go. Because of their past, it did. Aside from what Kate's dealing in terms of Vivian right now, it's important to keep in mind that she's been in hell for the past few years. She's had a lot of loss. She's reaching a tipping point — and it may not all be because of Vivian. This could be the thing that she can't come back from.
Days of Our Lives, Weekdays, Check Local Listings, NBC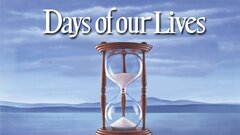 Powered by