What to Expect on the 'Dodo Heroes' Series Premiere
The Dodo, the website featuring videos of people coming to the aid of adorable critters, expands its mission with its first TV series.
"We want people to think, 'What can I do in my life to help an animal?'" says executive producer Keith Hoffman. Each episode follows a devoted individual — discovered via the web or news stories — helping furry friends.
Here, we preview some of the awww-some stories to come.
See Also
Animal Planet teams with popular online brand The Dodo for an inspiring new series whose first episode spotlights Campana's work.
Em-brace-ing An Elephant
When a pachyderm that weighs several tons injures a leg, it ain't an easy fix. Lucky for Jabu, a 30-year-old elephant in Botswana, Virginia-based animal orthotist Derrick Campana designs him a giant brace. On tonight's premiere, Campana and Heroes' crew trek to Africa "without knowing if it will work," says Hoffman. Spoiler: Jabu's cast is now bedazzled.
Koala Caretakers
Australian veterinarian Ali Bee, her husband, Tim, and their 10-year-old, Izzy, take in and heal sick koalas so they can live again in the wild. Their efforts, highlighted on the June 16 episode, are necessary: The herbivores' population has fallen 80 percent since the 1990s! Hoffman promises that the Bees' story is particularly touching. "I still get choked up," he says.
A Soldier's Puppy Love
Pen Farthing, a former British Marine, suffered PTSD after returning from battling the Taliban in Afghanistan. His savior: Nowzad, the dog he cared for amid the rubble and brought home. Through a charity he founded, the do-gooder now assists other veterans who want to reunite with the strays they bonded with while in the war zone. On the June 23 installment, he helps transport six dogs to their new home in the U.S. Says Hoffman, "It's his mission." —John Griffiths
Dodo Heroes, Series Premiere, Saturday, June 9, 9/8c, Animal Planet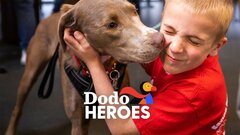 Powered by