The 'SMILF' Cast on What to Expect in an 'Intense' Season 2
Frankie Shaw and team are back for Season 2 of SMILF.
Filming is beginning soon, and the Showtime series — in an effort to say more authentic to its South Boston-setting — has moved production to Beantown.
"I'm thrilled," Rosie O'Donnell (who plays Tutu) said of the move to the East Coast. "I can take the train and my little five-year-old thinks there's nothing better than the train."
Season 1 left off with Shaw's character, single mom Bridgette Bird, confronting her father about physically abusing her when she was a child, and Shaw has previously teased that Season 2 will be about identity and the masks we wear in front of other people.
O'Donnell teased that the premiere episode is "wow."
"It's about childbirth," she said to TV Insider at an Emmy For Your Consideration event in New York City at the Whitney Museum. "We just read it and oh boy, we do explore childbirth from every single angle."
"It's the 23 hours of labor of Larry's birth. It's intense," added Shaw, who, in addition to being the series' lead actor is also its creator, director, producer, and writer.
See Also
'I'm looking to get away from pop-culture Rosie,' says the actress.
And when you get down to the nitty-gritty, O'Donnell believes the show strikes a chord with audiences because it's about relationships. "I think family is the theme of this show and what makes a family — all the ugly parts underneath as well as the joyous moments," she said.
Something else fans can look for in Season 2 is the development of the supporting characters, so get ready for more Connie Britton as Ally, an over-the-top housewife, and Raven Goodwin as Eliza, Bridgette's BFF.
"Raven will be a bigger part this season. We have a really exciting episode with Connie's character and, of course, more Tutu and more Rafi," teased Shaw.
"We also have one episode I'm really excited about where we follow the housekeepers at Ally's house, who we don't normally see, and we go into their world."
Britton is excited to learn more about Ally, whom she calls "complex."
"I think there are aspects of the character that I have seen in women that I've known in my own life," Britton added. "The character goes to a more extreme place but she deals with a lot of normal elements of feeling unfulfilled in her own life because she gave up things to be a wife and a mother.
"Those are things I find very relatable, which are humorous and also heartbreaking."
SMILF, Season 1 available on Showtime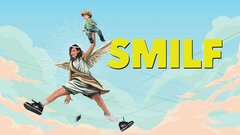 SMILF
where to stream
Powered by