Commence Watching These 5 Memorable Graduation Episodes (VIDEO)
Congratulations! You've put in the work and aced the final exams. But before you pick up your honorary degree in Television Bingeing, watch these TV characters graduate!
Cheers

"Teacher's Pet," Season 3, Episode 16 (Netflix, Hulu)
Baseball player turned bartender Sam Malone (Ted Danson) is determined to score that elusive high school diploma. Coach (Nicholas Colasanto) serves as geography tutor, teaching him about Albania to the tune of "When the Saints Go Marching In."
Better Things

"Graduation," Season 2, Episode 10 (Amazon Video)
Sam (Pamela Adlon) has a special gift for daughter Max (Mikey Madison) in honor of her high school achievement: a full re-creation of Christine and the Queens' "Tilted" music video on a makeshift stage in their backyard! The surprised grad squeals in delight watching her mom, siblings and grandma lip-synch and dance. Does it get any Better?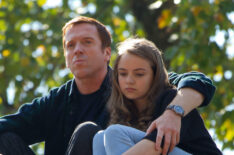 See Also
Plus 'Better Things,' 'Dexter' and more.
Beverly Hills, 90210

"Something in the Air," Season 3, Episode 28 (Hulu)
Say it loud and proud: Donna Martin graduates! In the episode before the West Beverly pals don their caps and gowns, they lead a school-wide march so the fair-haired senior (Tori Spelling) can take part in the ceremony. Mind you, if Donna had adhered to the school board rules and refrained from getting drunk at prom, she never would have been on the outs in the first place.
Buffy the Vampire Slayer

"Graduation Day Parts 1 and 2," Season 3, Episodes 21 and 22 (Hulu)
Sure, the Scooby Gang reaches the end of the road at Sunnyvale High. But fans adore this two-parter for other reasons: Buffy (Sarah Michelle Gellar) and fellow slayer Faith (Eliza Dushku) battle, and Buffy's ex (David Boreanaz) moves on to his own spinoff, Angel.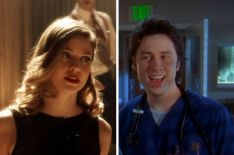 See Also
From '30 Rock' to 'Scrubs,' we've selected some of our favorites.
Felicity

"The Graduate," Season 4, Episode 17 (Hulu)
The drama that started with Felicity (Keri Russell) chasing her crush Ben (Scott Speedman) to the college in New York comes full circle. On the cusp of you-know-what, Ben proposes and asks her to move in with him. She chooses herself and heads back to California. Guess who follows?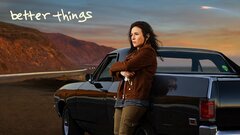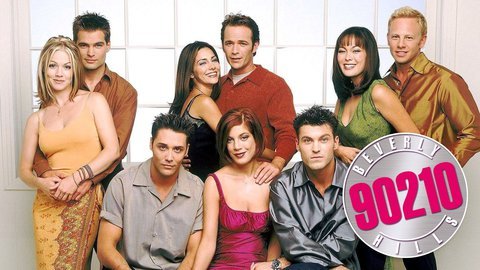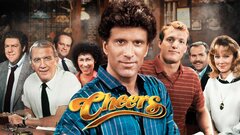 Cheers
where to stream