'For the People' EP Tom Verica on That Time He Played Grace's Ex on 'Will & Grace' (And If He Will Again!)
Devotees of Will & Grace recall in the show's pilot that Grace left her no-good fiancé Danny at the altar. The dumping happened off-screen, but Danny (Tom Verica) popped up in the flesh in a subsequent episode in which Grace briefly renewed their dysfunctional dynamic.
And since we've seen several characters from the series' original run pop up again — Leo (Harry Connick Jr.), Beverly Leslie (Leslie Jordan), Val (Molly Shannon), Smitty (Charles C. Stevenson Jr.) — maybe Danny will, too, when Will & Grace returns next fall.
See Also
Plus, which big names she's hoping will stop by next season.
TV Insider ran into Verica at an ABC press party earlier this year and asked the actor – who serves as executive producer of For the People – if he'd be open to reprising his sitcom role.
"I'd be back in a heartbeat," Verica responded. "Debra [Messing] and I had such joy in fleshing out that relationship in the short period of time that we had, which was evidenced by Danny coming back for the wedding episode [in Season 4]."
Scandal, another Shonda Rhimes show that Verica helmed last season, aired opposite Will & Grace, so did he have a chance to check it out?
"I have," he said. "It's fantastic. It really has not lost a step in any way, shape or form. In the landscape of television now, it's definitely one of the best."
Will & Grace, Returns, Thursdays, Fall 2018, NBC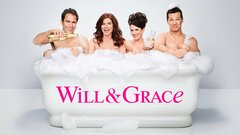 Powered by