'Vida' Stars Mishel Prada & Melissa Barrera on the Show's 'Emotional Roller-Coaster' (VIDEO)
You'll laugh. You'll cry. But you won't be disappointed when you watch the new Starz dramedy Vida, which premiered May 6.
The series, from creator Tanya Saracho (Looking, How to Get Away with Murder), focuses on two Mexican-American sisters, Emma (Mishel Prada, left in above photo) and Lyn (Melissa Barrera), as they return home for the funeral of their recently deceased mother.
As expected, big emotions come into play with the sisters back where they grew up and also in finding out the shocking news that their mother had spent the previous two years married … to a woman (Ser Anzoategui).
See Also
Plus, check out new photos from Season 4!
The good news: The show is a terrific, sexy, heartfelt mix of many emotions and — as Prada and Barrera told us recently — they were also on an emotional roller-coaster playing these characters.
More good news — if you haven't had a chance to check out the show (or don't subscribe to Starz … yet!) you can watch the first episode for free NOW on Starz.com, STARZ YouTube channel, Vida Facebook page, and Remezcla.com.
Before you check out the premiere episode (which I guarantee will make you want to watch this Sunday's new episode), check out our chat with Prada and Barrera:
Vida, Sundays, 8:30/7:30c, Starz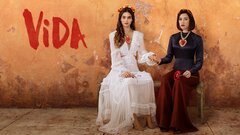 Vida
where to stream
Powered by