'Shadowhunters' Midseason Finale: Anna Hopkins Previews Lilith's End-Game
It's time for Lilith (Anna Hopkins) to either win her game against our heroes and resurrect her son, Jonathan (Will Tudor), or be defeated, as "Erchomai," the two-hour Season 3 midseason finale episode of Freeform's Shadowhunters, arrives on Tuesday.
Of course, Lilith has some obstacles in her way, as Simon (Alberto Rosende) and his new powers (thanks, Seely Queen!) have proven to be a huge threat.
The rest of the gang is also on task to get back Jace (Dominic Sherwood) from under Lilith's control and, as you'll see in the midseason finale trailer below, even Magnus (Harry Shum Jr) is potentially in danger as they try to defeat the Queen of Hell once and for all.
See Also
Now is the time to show your favorite bubble shows the love they deserve!
To get the lowdown on what we'll be seeing in the two-hour finale, and whether Lilith is going to win or lose, TV Insider talked with Hopkins about not only Lilith's fabulous wardrobe (right?!) but also whether she could potentially try to use Simon for her own use, and if the Queen of Hell is actually capable of love.
How has it been to play Lilith since you have to get into a really serious headspace. There are no light moments with her; she's a pretty serious, dark person. Or, not, "person" … demon.
Anna Hopkins: Yes, don't call me a person! [laughs] By the time of episode eight or nine, there was just no turning back. I would come to set and just turn into this crazy, evil lady, and get into the groove of it. As her goal is getting closer and closer, so I think it's easier to get into that headspace when you're trying to get something done. I loved every second of it. It was super fun.
See Also
The mermaid drama premieres March 29.
I don't think there's one scene where you don't have some impeccable dress or outfit on. Did that actually help? In some way Lilith is so glamorous, but also so evil, too.
I think the costumes really did help in a way. They were so regal. The costume team did such an incredible job scouring consignment stores and finding these really beautiful, unique pieces. I think it helped a lot in terms of just the sense that she is a queen and she does carry herself in a certain way and costume really helps with that.
I also like playing against it sometimes. Sometimes she gets a little ugly. I think it's really cool to have that sort of wildly impeccably dressed. I enjoyed working with the costumes for her character, for sure.
Let's go to the two-hour midseason finale. Obviously, Lilith is unnerved by Simon and his powers, but does she think she could actually use him, or is it about getting him out of her way?
Lilith is really resourceful. The idea of using him definitely would cross her mind. I think she's getting so close to her goal, however, and she's kind of toppled a bunch of roadblocks and he is obviously symbolizing the major one.
She wants to get rid of him but inherent in getting rid of him is how he can destroy things in a bigger roadblock than she's faced before. She's pretty pissed about it. He's a real thorn in her side, for sure.
How does she view Magnus? Does she see him as just an obstacle, too?
In the last episode, it's clear she could have killed him, but this is where it enters into little bit more of a chess-game situation. It's a long-term ordeal, dealing with Magnus's dad, eventually heading back to Edom.
[Lilith is] not one to have knee-jerk reactions to kill, even though it might seem like she does. She's got a lot of chess pieces on the board, and she won't sacrifice herself just to deal with somebody who has a lot of power in the moment.
Is there more to Lilith's plan that we find out in the these last two hours?
She's probably staying on track. I hadn't seen Shadowhunters before I started the show, so I watched everything. There's definitely a theme of what you expect might not happen. So even though her plan might be on track, I would say, expect some more fun stuff.
Emotions are interesting with Lilith, but would you say it's love that's pushing her to bring Jonathan back?
Yes, I think so. I think that as a demon, and an Edom, we might have a little bit of a different definition of love. I think the core of what Lilith is doing from day one in Episode 1, she believes it's love. I think that she operates on a kind of parallel thing with Clary and Jace. It's in the upside down, as one would say.
Since she's still controlling Jace, does she see him as just a tool, or has she developed some affection for him at all?
I think with her, even with Jonathan, there are two sides to the coin. The way that she loves is also pretty vicious and vile. So I think that with Jace, he's certainly a tool, but he is also really the only person around. So even though he's completely possessed she does often divulge what her plans and her workings and her emotions, she's quite open around him.
[Lilith] does have sort of this theme of motherliness and taking beings in to become her own. I think that's certainly happening throughout the season with Jace, even though she also wants to torture him and eventually kill him, probably.
Since you had to catch up on all the Shadowhunters episodes before you started, is it safe to say you're team Malec? Are you on board?
Of course! I love the whole show. Oftentimes when you come into a show, you don't have a lot of time. There were also the [Cassandra Clare] books that I wanted to read, and I just ended up getting hooked on it. My boyfriend would come home and I'd be binge-watching Shadowhunters in bed and have my book open.
I was a huge Buffy fan, and the world of angels and demons and vampires and stuff — I loved it. So the world itself I loved, and then, obviously Malec was a beautiful development. I love seeing that on screen. They're a really unique couple. I'm glad I don't ruin them!
Check out the Shadowhunters midseason finale trailer:
Shadowhunters, two-hour midseason finale, Tuesday, May 15, 8/7c, Freeform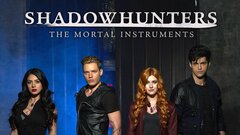 Powered by