7 Reasons Freeform's 'Siren' Will Be Your New TV Addiction
Freeform's newest drama is set for to be released on March 29—a day they've officially dubbed International Mermaid Day.
Siren is set in Bristol Cove, a small town known for being part of mermaid legend. When mysterious beauty Ryn (Eline Powell) appears, she ultimately proves that all of the rumors about the coastal hamlet are, in fact, true, and this eventually leading to a war for the ocean.
See Also
The new pilot will be directed by 'Bridesmaids' and 'The Office' alum Paul Feig.
The show is definitely new territory for Freeform, but per usual, the network has managed to create a gripping story about young adults in unusual circumstances. Read on for a few reasons why the series will be the next show that you can't stop watching.
The Mermaids
There just aren't enough shows about mermaids, and that's exactly why it's about time for a change. Siren tackles the challenge well with an unexpected version of a mermaid—one better than you could have imagined.
Sirens are known to be dangerous creatures that would lure men to shore with their voices, only to cause shipwrecks. This series brings that into the modern world, while still using the signature siren song that manipulates humans.
The Characters
Siren is about to introduce you to diverse and relatable group of characters. Something is happening in Bristol Cove and not everyone is reacting the same, which allows viewers to get to know a range of personalities to root for. One such character is the handsome Xander, a deep sea fisherman actively in search of the truth about the town's odd goings-on.
The Relationships
Since sirens can lure humans with their voice, we know that every interaction Ryn has with someone could lead to them being manipulated by her. Her powers are irresistible, after all. In the trailer alone, we learn that Ryn and Maddie are going to have a very memorable connection when Maddie is lured in by her new acquaintance.
It helps that Ben and Maddie work in marine biology, giving them knowledge that could clue them into Ryn's background.
The Town
Bristol Cove is a fictional town but it's fascinating all the same. The myth and the Mermaid Days Festival establish a perfect setting for all of the mystery plaguing the area.
The Darker Tone
Siren doesn't feature the fairytale version of mermaids. Instead, Ryn shows she shouldn't be underestimated. She may seem defenseless because of her inability to communicate with the humans around her, but she can protect herself extremely well.
In fact, pretty much right away, we see her kick ass which is exciting. Mermaids are usually associated with beauty and brightness, but Ryn proves that's not all there is.
The Mystery
Who is Ryn really? And why are mermaids now showing up? That's the main mystery the show sets up, which will continue to have you guessing. Things get even more complicated when seemingly unrelated things start happening in the town. Time will tell how this is all connected.
The High Stakes
As viewers, we're unfamiliar with non-human—specifically mermaid—characters like Ryn, so there's no telling what might happen. Don't limit your expectations to what you're used to, as all bets are off.
Siren, Series Premiere, Thursday, March 29, 8/7c, Freeform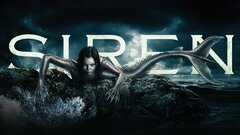 Siren
where to stream
Powered by