'Shadowhunters' Star Dominic Sherwood on Jace's Future: 'It Gets Worse'
Shadowhunters' third season is building up to something dark and sinister. And one of our favorite Shadowhunters, Jace (Dominic Sherwood), is a big, scary part of it.
Now that we know the identity of "The Owl" — big bad Lilith's (Anna Hopkins) deadly minion — fans have to wait for that major discovery to dawn on the rest of the gang. And boy are they going to be surprised.
See Also
The actor also talked those hot workout pics we've been seeing on Instagram. (More, please!)
Ahead of Tuesday's episode, Sherwood gave us the scoop on playing the feathery fiend and what's to come.
How did you react when you found out that you were 'The Owl'?
Dominic Sherwood: It's interesting because I got the first two scripts before we started and I was like 'Oh man, this Owl creature kind of sucks,' and then I got to the first table read and no one was saying or doing anything for him. [Then] they were like, 'Oh you know that's you, by the way.' It was one of those moments where I knew I had my work cut out for me.
We had essentially two completely different characters to create. What we wanted was to develop The Owl in such a way that he doesn't look like Jace, he doesn't walk like Jace — they wanted him to be the complete opposite. And interestingly, what we mimicked was Will Tudor as Jonathan — how he stands and holds himself. That's how we wanted The Owl to move, walk, talk because it was a red herring for the audience. But also for me, more importantly from an actor's point-of-view, it was about [Lilith] being in control of Jace's form. In her head, it worked parallel to Jonathan. It's the only human creature that she knows. So I had to go through the past episodes and talk to Will and make sure I'm walking like him, holding myself like him, but that was our M.O. for that character.
See Also
The actor reveals who breaks character most, plus, his other favorite show right now.
I love that we still get Will Tudor in these nightmare sequences in Jace's mind. Did you know Jace's path would get so dark this season?
As gross as they are, it's fun to do the dark stuff every once in awhile. It's gotten worse for Jace, so I know it's not all going to be sunshine and rainbows. Last season he died, so I didn't think it could get worse.
When you're playing The Owl, is that mask awful?
It's not super heavy, but it is hot. You can't really see through it, and what we learned on the day from filming in the rain, that the eyes — if you wait too long — will fill up with water, so that was a learning experience. The first couple times we put it on was a full learning experience. But what was nice was I intentionally didn't stay in an American accent because it was easier for me to distinguish between the characters. I also didn't have to go through hair and makeup every day, which was cool.
What's going to go down on the April 17 episode?
On the lighter side, we've got a nice look into Jace and Simon's (Alberto Rosende) relationship again, which we saw briefly in Season 2. But we get another look into that, which has a more serious turn. It's always fun to work with Alberto and Chai Hansen now, who plays Jordan Kyle. The three of us have a lot of fun on and off screen.
On the dark side, what we found out in the episode before was that Lilith can only control Jace when he sleeps, because of his love for Clary (Katherine McNamara). Obviously, she is going to try to get in the way of that. That's a roadblock for her. It's only going to get worse.
Jace and Clary can't catch a break, can they?
We actually just shot some stuff today that was really pleasant. It was really nice. But yeah, they tend to come from a place of darkness. I think that that's resolved because of that commonalities between the two of them. Because they're both intelligent people and they both love each other.
Jace now knows that he's missing chunks of time, but he thinks it's for an entirely different reason. Luke (Isaiah Mustafa) has told him about his mother's struggle with mental illness. Are we going to see resolution for that? Is Jace going to seek treatment?
The smart thing to do, from anyone's point-of-view, if you have any ailment in any way, shape or form, the best thing to do would be to seek advice from people you trust and to go through the correct steps to get a diagnosis. That's what would be appropriate. I'm just going to leave you with that. That would be the appropriate course of action. Read into that whatever way you want.
We had that beautiful scene between Luke and Jace. Jace is struggling and Luke very gently gave him the information that he had to give him, but at the same time was very devastating to Jace. Like, 'You may be sick and you may have a problem.' And as we go further down the rabbit hole, Jace's motivations change a little in the coming episodes.
That's happened to Jace quite a few times already. His allegiances are always slightly shifting despite his loyalty to his friends.
This one is probably the most drastic. The whole thing with Jace is, before our whole story happens, he was good. He had the world in his hands, he understood who he was and his place in it. He understood that he was just a soldier and a little devil-may-care and he was the best at what he does, which we've repeated a few times. And we had finally discovered in Season 2 why that was. I think the path that was laid out in front of him was difficult because of the twists and turns and as a result of that, he had to learn to change and adapt and mold himself. And that's going to keep happening. That's not over yet.
See Also
These shows paved the way for other characters.
What can you tease about the rest of Season 3?
It definitely gets worse for everyone before it gets better. We just got to Episode 20 of Season 3 and there's a lot going on. There's a lot that we're led towards in the first half of the season, that will come to fruition in the second half of the season. There are new relationships, continuing of old relationships. There's a lot that happens, but I think the main thing to take away from this as probably is always the case: It gets worse before it gets better.
How closely are you following the books this season?
Now, this is interesting. Fans that have read the books will think that this season follows them very closely, until they see 3B. They'll think it's very close.
Shadowhunters, Tuesdays, 8/7c, Freeform.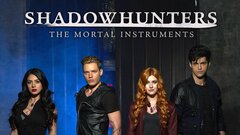 Powered by