WATCH: New Villain Bushmaster Puts the Hurt on 'Luke Cage' in Season 2 Trailer
"Anyone who can take you on barehanded can't be good for Harlem," Bobby Fish (Ron Cephas Jones) tells Luke Cage (Mike Colter) in a new trailer for Season 2 of the Netflix series Marvel's Luke Cage, which dropped Monday.
That's an understatement from Bobby. The trailer initially re-establishes just how "bulletproof" Luke normally is, although one character does warn us that he is "nothin' but a man" in a voiceover.
And those words seem prescient after we suddenly see a formidable new foe shockingly knock down Luke and actually draw blood. And this villain appears to be rather bulletproof himself.
We learn that we are finally seeing another one of Luke Cage's iconic, snake-named villains — in this case, Bushmaster, whose real name is John McIver, portrayed in the series by Mustafa Shakir.
Check out the trailer here:
The arrival of Bushmaster appears to be just part of trouble for Luke and his efforts to keep Harlem safe in the new season, as Alfre Woodard's Mariah Dillard is back, stating that "Harlem doesn't need a hero — it needs a queen." And she surely fancies herself to be that very queen.
It was also previously announced that Annabella Sciorra would be joining the cast this season as Rosalie Carbone, a "dangerous downtown criminal underworld power player," so who knows what trouble she'll cause for our hero.
The trailer isn't all doom and gloom, though. There's also fun interplay between Luke and Misty Knight (a returning Simone Missick), who does her own ass-kicking. When Luke mentions that he doesn't need a sidekick, she playfully rejoins, "Who says you're not my sidekick?"
Luke does remind Misty that, "It's my show." And so it is, in more ways than one.
Marvel's Luke Cage, Season 2, Friday, June 22, Netflix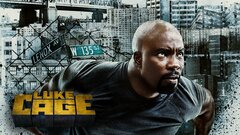 Powered by