Netflix Releases 'Luke Cage' Season 2 Trailer, Photos & Premiere Date (VIDEO)
Things will be heating up this summer when Marvel's Luke Cage returns to Netflix for Season 2.
The network released the premiere date via an announcement video that doubles as a teaser trailer for the upcoming season. In the clip, we see Mike Colter back as Luke, proving that he's up to any challenge.
"I'm Luke Cage. You can't burn me, you can't blast me, and you definitely can't break me," he proclaims. It's an undeniable truth—Luke is an invincible badass.
Next, we see some of that Marvel action fans have come to love over the years. And finally, fans get what they've been itching for since the first season of Luke Cage was released in September of 2016: the Season 2 premiere date! The new season starts streaming on June 22.
Plenty of punches, fiery scenes and superhero realness are what's in store, if the trailer is any indication. Check out the trailer and announcement below:
As if the trailer wasn't enough of a treat, take a peek at some first look photos for the upcoming season below.
Marvel's Luke Cage, Season 2 Premiere, Friday, June 22, Netflix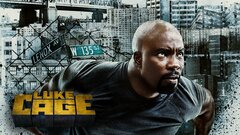 Powered by