My TV Obsessions: 'Shadowhunters' Harry Shum Jr. on His Dream Co-Star & More
Shadowhunters' Harry Shum Jr. who plays fan favorite Magnus (one half of the Malec ship) shares what shows are part of his life and more.
MY CURRENT FAVORITE SHOW:
Atlanta. It has a clever layer of social commentary disguised in an entertaining, 24-minute slice of honesty pie.
THE FUNNIEST PERSON ON TV:
Hasan Minhaj. I loved his stand-up special on Netflix [Homecoming King].
THE SHOW THAT ALWAYS MAKES ME LAUGH:
Catastrophe. [Creators and stars] Rob Delaney and Sharon Horgan are brilliant in their true-to-life bantering as a married couple.
See Also
Now is the time to show your favorite bubble shows the love they deserve!
MY DREAM CO-STAR:
Christopher Walken. My first day on set, I would ask him to do an impression of me to balance out countless ones I've done of him.
THE SHOW I MISS THE MOST:
The Fresh Prince of Bel-Air. Uncle Phil [James Avery] was my American TV dad growing up.
THE SHOW I'D LIKE TO GUEST STAR ON:
Stranger Things. I can be that nosy neighbor who knocks on the Byers' door every day to offer help, but the only thing he can provide is his pop culture expertise, which, unbeknownst to them, is ultimately the key to closing up the Upside Down for good!
THE FIRST THING I WATCH WHEN I WAKE UP:
Black Mirror because I like to start the day thinking that if that is the worst thing that can happen, my day will be just fine.
Shadowhunters, Midseason finale, Tuesday, May 15, 8/7c, Freeform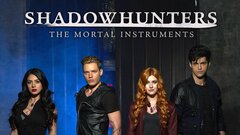 Powered by