Celebrity Chefs Fight Crime in 'Scooby-Doo and the Gourmet Ghost'
Jinkies! Culinary icons Bobby Flay, Giada De Laurentiis and Marcus Samuelsson are ditching the kitchen for the recording booth to serve up cartoon versions of themselves for Warner Bros. Animation's upcoming flick Scooby-Doo and the Gourmet Ghost (available late summer on DVD and digital download).
Flay — whose alter ego is revealed to be Fred's uncle — says he and his fellow foodies fit right in with the Mystery Inc. squad.
"Giada and I are like brother and sister, so you'll see in the script we kind of give each other a hard time," he says.
"And Marcus has been a friend and contemporary for many years. We all complement each other, and it's fun to have this cooking brethren together with Scooby-Doo!"
Flay's and De Laurentiis's cats, Nacho and Bella, make animated appearances and the chefs' crime-fighting skills are also on display.
"It turns out I have some pretty amazing talents, many that I didn't even know I had," De Laurentiis says of her character.
"I do martial arts, acrobatics. I'm able to scare off ghosts with fennel, which is something Italians truly believe. I can even do cartwheels, which should make a great impression on my daughter!"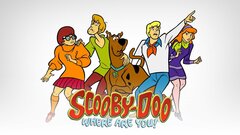 Powered by