'Legendary Locations' Host Josh Gates on Taking Viewers Down the Road Less Traveled Says
For explorer and adventurer Josh Gates (he's visited 108 countries!) hot spots are more like "not spots."
"The show isn't called Legendary Locations because the epic places we visit are well-known, but because they have incredible backstories," Gates says. "I share my secret list of thrilling unknown destinations."
See Also
Chris Jericho answers five questions ahead of the premiere of his Travel Channel special 'The Legend of...With Chris Jericho.'
Can you give an example of a thrilling unknown destination?
Josh Gates: We've all seen the Great Wall of China. But in the May 23 episode, we visit India to see the second-largest continuous wall on the planet. If you polled 100 people, probably all of them would never have heard of it. It has an ancient story of faith behind it that makes it a holy place for pilgrims.
Do natural wonders make the cut?
Yes. We travel to New Zealand in the May 16 show, to the Waitomo Caves, where incredible glowworms live deep within the caverns. In that same episode, we also look at a lesser-known part of the ancient city of Petra in Jordan, which is carved into sandstone cliffs and featured in Indiana Jones and the Last Crusade.
See Also
The acclaimed film debuts March 12 on National Geographic.
How did you catch the travel bug?
My mom's British, so I went to England as a kid with my parents. The cathedrals and castles made it a magical fairy-tale place for a young person. That was the first time I thought, "Oh man, there's this really big world out here."
Your top three travel tips: Go!
Make room for travel—prioritize it, save for it. Get scared. Memorable experiences happen out of your comfort zone, so take even just one day out of a relaxing vacation and have an adventure! Keep a travel journal. In 10 years, even a few scribbles of what you felt, saw and how it affected you is more impactful than phone photos.
Legendary Locations, Wednesdays, 10/9c, Travel Channel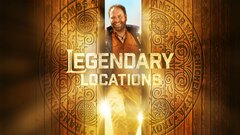 Powered by