'The Americans' Star Matthew Rhys Gets Nostalgic & Teases the Series Finale
It's time for comrades of FX's acclaimed Cold War spy thriller The Americans to lift a glass of vodka and say dasvidaniya.
Matthew Rhys, who plays Philip Jennings, the emotionally torn Soviet agent married to ferociously patriotic fellow spy Elizabeth (Keri Russell), shares his thoughts as the end approaches.
The show certainly became timely with Russia meddling in the 2016 election, didn't it?
Matthew Rhys: In the first season, journalists questioned whether Russian interest in the United States was still relevant. We feared we wouldn't last more than a season or two. It's nice to know that we've become relevant.
See Also
The actress also dishes on the series she misses the most and her dream co-star.
The Americans is as much about marriage as politics. Where are the Jenningses in the show's final episode?
They're desperately trying to meet in the middle, but they have such opposing forces pulling on them.
Will Elizabeth ultimately accept Gorbachev's reform in the motherland?
While Philip thinks it's great, Elizabeth's mandate to defend [the old order] defines who she is. Elizabeth is really falling apart.
On the other hand, Philip seems to have regrets.
Yes. The final betrayal of Martha [the FBI secretary whom he fake-married] weighed heavily on him. And he's also tired of all the killing.
See Also
The show's executive producers provide some vital intel.
You and Keri shared many emotional scenes together. Does your real-life relationship help you get to the heart of those moments?
There are times when working day-to-day in a very intense manner with your partner helps, and sometimes knowing someone so well doesn't. When you're annoyed about the way they left the bathroom [at home], it doesn't help the scene you're about to play. You have to take the best and try to ignore the worst.
Any hints on the finale?
I had hoped for a shock or surprise ending. I was incredibly impressed with how the producers threw a curveball that I don't think anyone will see coming. It was a very emotional roller coaster — and then incredibly moving.
The Americans, Series finale Wednesday, May 30, 10/9c, FX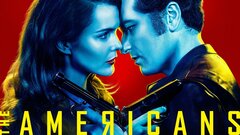 Powered by