5 Things You Didn't Know About 'American Crime's Connor Jessup
Many aspire to great things, but few achieve them by the time they reach legal drinking age. Not so with American Crime's Connor Jessup. The Falling Skies vet—who currently plays Taylor Blaine, the quiet teen whose rape allegations against several high school basketball stars upend his sports-minded Indiana community—is also a working writer-director. Here are five more details about the accomplished 21-year-old Canadian.
RELATED: Read Matt Roush's Review of American Crime
1. He (sort of) made his screen debut in a Quebecois KFC commercial. He wasn't meant to have dialogue. "I ate copious amounts of cold fries and chicken," Jessup recalls. "Then the director wanted me to say, "Salud, Papa!" to my "dad." I'm the most Anglo-sounding kid ever—and when we saw it on TV, they got some French kid to dub the line!"
2. At 13, he pitched his first TV episode. "I was looking for excuses to prove that I should be taken very seriously," he says. Jessup was starring in Discovery Kids' The Saddle Club when he and cast members thought up a story good enough to shoot. "I don't even remember what it was about. It was just this crazy adventure for our characters to go on."
3. Jessup also writes, directs and produces short films. His second project, The Ethereal Boy, about the ghost of a kid who follows his grieving classmate back home, premiered at the Toronto International Film Festival last year. "I love dramas, but I also love ghost stories," he says.
4. Making American Crime scares him more than any Falling Skies monster. "In Falling Skies, you were always part of a greater scene of 10 people running down the street talking about an explosion or standing around pointing at maps," he says. "A lot of American Crime is two or three people sitting in a room, with complicated dialogue. It's much more difficult."
5. Despite his many efforts, he's still unsure of himself. "All actors are morbidly insecure," he says. "No matter what!"
American Crime, Wednesdays, 10/9c, ABC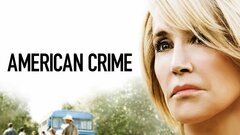 Powered by