'American Crime' Season 2: Regina King on Blurring the Color Lines
Busy? Try being Regina King. In 2015, the actress/director helmed six installments of BET's Being Mary Jane and an episode of ABC's Scandal. She appeared on HBO's The Leftovers and earned a supporting actress Emmy for portraying Aliyah Shadeed, the devout Muslim sister of a drug addict/murder suspect, on the first season of American Crime. Now she's back for the anthology series' second go-round in the very different (but equally dramatic) role of Terri LaCroix, a rich mom whose basketball star son is accused of raping a scholarship student at his tony prep school. King took a break from filming in Austin to chat about her career and the show.
RELATED: More New Shows Premiering in Winter
You've been working in Hollywood since the mid-1980s. Have you ever wanted to do something else?
Growing up, I wanted to be a dentist! But somewhere in my second year at USC, I realized I didn't really like school. I enjoyed acting and I wanted to make it a career. I'd already done commercials and some extra work on Diff'rent Strokes and Silver Spoons. You gotta start somewhere.
Did you know much about American Crime's Season 2 when you signed on?
I only knew what the crime was and that my character was a powerful business exec.
How would you describe Terri's mothering style?
She's a woman who believes that hard work and focus equal success. And she's definitely attracted to success and wants the same for her son.
Do you agree with how hard-driving and on top of him she is?
I don't agree or disagree, but I understand it. When you have a child of color, you want them to be aware of pitfalls they might not realize are out there. Just because color lines don't exist in his personal life and at his school, that doesn't mean Terri's son won't encounter them. Wanting him to be armed with the tools to get through that is something I understand. For example, when your child is learning how to drive, there's a conversation that every black parent has with his/her child about how to conduct yourself if they are pulled over by the police.
Were you surprised at the Emmys when so many people thought your son was your boyfriend?
Yes! Either I looked young, or he looks old!
Where's your Emmy now?
In a box. I had to jump on a plane and go straight to work. I was filming The Leftovers and American Crime. I only had time to think of the lines I had to remember.
American Crime, Returns Wednesday, Jan. 6, 10/9c, ABC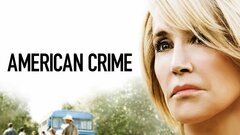 Powered by