Roush Review: 'American Crime' Tackles Issues of Class and Sexuality
The kids are most definitely not all right in the powerful second season of John Ridley's American Crime anthology series, which has become something of a repertory company for some of TV's top actors, many returning in roles a world apart from last year's urban tragedy.
As before, incendiary issues of class and race factor into this disturbing story, further inflamed by a sexualized social-media culture. The victim: Taylor (a fine Connor Jessup), a working-class teenage boy and scholarship student whose "white trash" hazing at an Indianapolis prep-school basketball team's party may have involved sexual assault.
When Taylor's mom Anne (an intense Lili Taylor) cries rape, the shock waves resonate throughout the school, team and community. "You need to be very careful with that word," warns Leslie, the condescending headmaster (Felicity Huffman, chilling), to the frantic single mother. Leslie is among Crime's most fascinating characters, seemingly torn between protecting the kids caught up in this scandal and preserving the pricey school's reputation amid a public-relations nightmare. As she tells Anne, "As bad as it seems, it can get worse."
RELATED: Read All Roush Reviews of New Shows
And so it does, as the victim becomes further victimized when matters of shame and sexuality become inevitable consequences. Though Taylor repeatedly declares, "I just want this to be over," the situation escalates, showing just about everyone at his or her worst. Like in the first season, American Crime challenges its actors to reveal their characters in the most unsympathetic light—including Regina King, who won an Emmy last year as a Muslim activist and now takes on the role of Terri, a basketball star's affluent and status-conscious mother. She coldly pressures her son Kevin (Trevor Jackson) to look out for himself first, even at the cost of throwing his teammates—including tormented co-captain Eric (Joey Pollari)—under the proverbial bus. Nothing good can come from this, except good drama.
With teens feeling trapped by circumstance and suspicion, and parents (including Timothy Hutton as the team's defensive coach) feeling isolated from their kids' insular Instagram worlds, the question haunting this season isn't so much who-done-what as who will ultimately be held responsible in a lamentably unequal society. American Crime could hardly feel more relevant.
American Crime premieres Wednesday, Jan. 6, 10/9c, on ABC
---
Questions? Ask Critic Matt Roush!
TV critic (and occasional TV therapist) Matt Roush answers viewer questions and concerns in his Ask Matt column each week. Wondering about plots, characters and twists on your fave shows? Submit your query to Matt via the form below: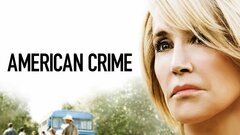 Powered by