The 'Genius' Season 2 Cast Talks a 'Difficult' Picasso and Season 3 Plans
Genius is back for a second season on NatGeo, and ahead of the April 24 premiere, the cast traveled to NYC to preview the show at the 2018 Tribeca Film Festival.
This time, Genius focuses on the well-known but mostly misunderstood artist Pablo Picasso, bringing with him a whole new cast of characters. Antonio Banderas leads as the titular Picasso alongside his younger counterpart, Alex Rich. Both Banderas and Rich embody Picasso so precisely that it's almost hard to believe they aren't the same person at different ages.
See Also
The colorful second season profiles Pablo Picasso as a man of many fiery muses.
Some familiar faces are returning, as well, including Genius: Einstein's T.R. Knight (Grey's Anatomy), Samantha Colley (Victoria) and Seth Gabel (Salem, American Horror Story). This time, they're playing Max Jacob, Dora Maar and Guillaume Apollinaire respectively.
Meanwhile, Clémence Poésy (The Tunnel) joins as Françoise Gilot, the famed artist and onetime muse of Picasso's. Lucas Englander rounds out the cast as art historian Daniel-Henry Kahnweiler.
TV Insider caught up with the cast at the Tribeca screening, where they gave some insight into what viewers can expect. And it sounds like, at the very least, the audience is going to learn something they never knew before about the icon.
"[Geniuses] are egotistical, arrogant, and they are very difficult. That was the most surprising thing for us to discover, this kind of dichotomy between the genius that we know… and then the human being that traveled through life with a backpack filled with greatness and mysteries and a big magnifying glass on top of him," Banderas explained during the panel.
His younger counterpart Rich clearly appreciates Banderas — he even credits the actor for his nearly spot-on accent, as both Banderas and Picasso were born in the Spanish city.
"I had an incredible partner in Picasso with Antonio. He's got the Málaga accent, so I could visit him and listen to him when we were traveling around Europe together," Rich shared. "So we had a lot of time to discuss the mannerisms and his outlook and how his culture played into the way that he saw the world."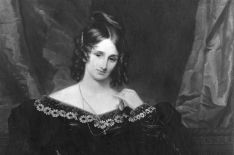 See Also
The 'Frankenstein' creator is the focus of the NatGeo series' next season.
Fellow Genius newbie Englander echoed Rich's sentiments to TV Insider on the red carpet. "You learn a lot from each other, that's what I think is the most beautiful, you see how other actors work," the 25-year-old reasoned. "There's no moment of you feeling alone in the room because everybody's really really precise with their work and I'm happy to have been part of that cast."
Colley was happy to return to the series and has high hopes for a Season 3 return — National Geographic recently announced that Frankenstein writer Mary Shelley will be the focus next time around.
"It was amazing coming back to NetGeo, they feel like family now," Colley shared. "So when they asked me to come back, it was a complete no brainer because I loved working with them."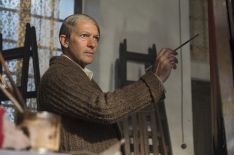 See Also
Antonio Banderas takes on the titular role.
As for a role in Season 3, she said, "I love that it's a woman, I love that it's British. [Laughs] Yeah, I'd come back here in a heartbeat, [NatGeo is] wonderful and they're wonderful to work for and it would be amazing to work in my own accent for once [Laughs]." The English actress portrayed Einstein's Serbian wife Mileva Marić last year and is taking on the French-born Maar in Season 2.
Gabel is on the same page as his co-star when it comes to the Season 3, explaining, "It's such a pleasure to be a part of this, the writers are brilliant. I think Mary Shelley is a great choice, she is the first author of any kind to kind of get science fiction into the mainstream."
"I think there's going to be a lot of really wonderful opportunities to see her struggle, especially in the context of what we have now with the #MeToo movement," Gabel added. "I think what she had to endure and get through in order to write what she did, I have a feeling that Frankenstein's monster will take on a new meaning for all of us."
Then there's T.R. Knight, who is taking a dramatic leap from adversary of the genius — he played J. Edgar Hoover in Season 1 — to friend as Max Jacob. Knight told us that he's looking forward to portraying that onscreen to viewers.
"They challenged each other, it was everything a friendship like that has, jealousies, fights… these were very intense people who really wanted to explore the edges of everything," Knight told us. "The anger that they expressed, the love, the lust, it was very palpable."
As viewers prepare to dive into Picasso's life, these words paint a clearer picture of what they can expect.
Genius: Picasso, Premieres Tuesday, April 24, 9/8c, National Geographic Channel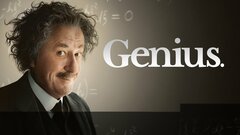 Genius
where to stream
Powered by