Michael Weatherly Previews 'Bull' Season 2's 'Gut-Wrenching' Finale
He looks like a smiley guy, but Jason Bull (Michael Weatherly) is brimming with inner turmoil. He can't get a girl. He fears he's losing his special touch as a trial consultant who applies psychology to help win cases.
And things are getting even worse on Bull's Season 2 ender. Bull's ex-wife, Izzy (Yara Martinez), is remarrying. At work, he and his team defend a mute man who could face the death penalty if they lose. Luckily, they'll find a loophole that may set the guy free.
See Also
Michael Weatherly's charming trial consultant is back for more psychology and gadgetry
We interrogate Weatherly about the proceedings.
Did Bull change this season?
Michael Weatherly: He's been veering off course since last year—and in a self-destructive way. Now everyone around him notices the eating-too-much, drinking-too-much, sleeps-on-his-couch Bull. It's concerning.
What is his reaction to his ex-wife's impending nuptials?
I would say it's the straw that finally breaks his back. He realizes that it's too late for him to fix a lot of things. He's been helping strangers through his job, but he's been ignoring his friends. Izzy is the latest and deepest reminder of that.
Does working on a death penalty case affect the team?
All their cases involve life and death in some way, but this one is profound considering the defendant appears to be near totally guilty.
Why does Bull take the case?
He's avoiding saving himself by saving other people. And once he sees someone in trouble, he just can't let it go.
How does he respond when the trial doesn't go as he had planned?
It's gut-wrenching. He feels completely bereft.
Is Bull a happy man?
He has a long way to go to be happy. He's a conscientious man. He's a smart man. He feels things deeply. But he's alone.
Bull, Season Finale, Tuesday, May 8, 9/8c, CBS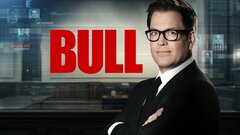 Bull
where to stream
Powered by