'Blindspot' Star Ashley Johnson Talks Having Bill Nye as Her On-Screen Dad
Everyone's favorite Science Guy, Bill Nye, is coming to save the world in the NBC drama Blindspot on May 4.
While FBI colleagues Jane (Jaimie Alexander) and Weller (Sullivan Stapleton) deal with complications related to her strong-willed daughter, Avery (Kristina Reyes), the educator swoops in to assist the rest of the team in the lab. "I hope it makes viewers grin," Nye says of his appearance.
It should: Not only is he playing his famous self — which he's also done on The Big Bang Theory and Inside Amy Schumer — but he turns out to be the dad of forensic specialist Patterson (Ashley Johnson), a revelation that causes quite a stir among the lab-coat set. Notes Nye, "It's not hard at all to imagine her as my daughter!"
If you can't get enough of Nye, then catch him in the upcoming third season of his Netflix series Bill Nye Saves the World, which debuts Friday, May 11.
So what did Nye's onscreen daughter, actress Ashley Johnson, have to say about the scientist's guest role? TV Insider caught up with her on the Blindspot set to find out. From working with an iconic TV personality to what fans can expect, Johnson gives the scoop!
What was it like when you found out Bill Nye was going to play your father on the show?
Ashley Johnson: I was like, 'Oh, that would be incredible, and completely makes sense for Patterson.' It's just this great little storyline that they've put together. And I, [Laughs] I was totally freaking out. I mean, I've probably seen every single episode of [Bill Nye the Science Guy] — at least twice.
I was such a huge Bill Nye fan and so maybe that was another reason why [creator] Martin Gero thought it would be funny if he played my dad. He's so wonderful, he came in and I was so nervous to meet him and so starstruck and he's just been so giving as an actor. He's just so kind, wonderful, smart, and funny. I just feel so lucky that I got to work with him.
Will Nye's Blindspot entrance be funny or dramatic?
Some of the team doesn't know that Bill Nye is Patterson's dad, so there is a very funny reveal. And when he first comes to the FBI, because he has to help Patterson with something, it's great.
The writers really did a great job of handling a storyline like that, and bringing somebody like Bill into this very dramatic world and having these little moments of comedy with him. But he's also an incredible actor — there are some moments that we have which are a little more dramatic and he's so good.
What's the dynamic between the two of you?
I think Patterson and Billy Nye are very close. We had a really great rapport on set and I think because he's just so easy to get along with. It was very easy to do the scenes with him. It's like a very father-daughter relationship where she kind of gets irritated with him, but also realizes how smart and great he is.
Blindspot, Fridays, 8/7c, NBC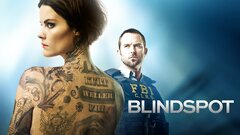 Powered by